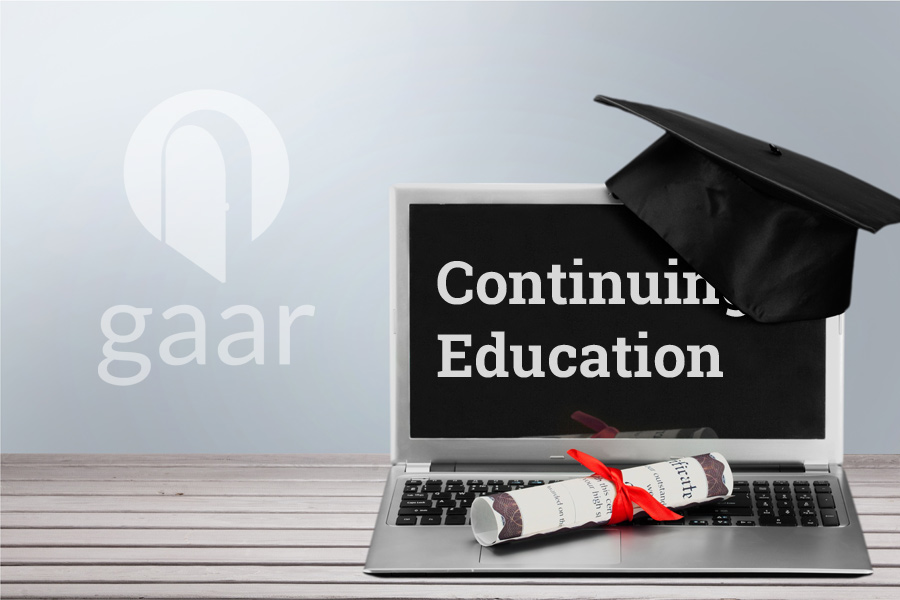 As a real estate professional, continuing education is not only critical for maintaining your license and membership, it is about the constant expansion of skills and skill-sets through learning and increasing knowledge.
Your personal continuous learning plan can include:
CE classes to satisfy your licensing requirement
Designation classes that take your skills to a higher level
Complimentary GAAR classes/forums/workshops to improve your knowledge of the local market
Professional groups like the Women's Council of Realtors, the Exchangors, and Toastmasters
Online webinars to improve your proficiency in technology, including Flexmls, Supra, ShowingTime, RPR, Instanet and more
NMREC's New Continuing Education Requirements
The recently adopted rule changes that became effective on January 1st contain a provision that requires licensees to have 36 hours cumulatively in a 3-year cycle.
Breakdown of the 36 hours:
4-hour "core elective"
4-hour ethics course
4 hour CORE Course annually (unless the 8-hour Mandatory Course has already been taken).
The lists of approved core electives has been integrated with the master list which can be accessed by clicking on the following link: List of NMREC Approved Courses.
Upcoming GAAR Classes that meet these requirements:
Class
Details
Link
NMREC Core Course: 4 CE (Education)
Thursday, March 16, 2017
1:00 pm - 5:00 pm
Learn More
Business Ethics in Real Estate: 4 CE (Education)
Friday, March 17, 2017
8:30 am - 12:30 pm
Learn More
NMREC Core Course: 4 CE (Education)
Monday, March 20, 2017
12:30 pm - 4:30 pm
Learn More
Anatomy of a Purchase Contract **Core Elective: 4 CE (Education)
Friday, March 24, 2017
8:30 am - 12:30 pm
Learn More
More Classes at GAAR
Year Long
Calendar
NAR's New Code of Ethics Requirements
December 31, 2016 was NAR's last Quadrennial. Existing members are now required to take an approved Code of Ethics Class every TWO years. The current cycle ends December 31, 2018.
Approved Class List
Additional Learning and Professional Development Classes
Beyond the requirements, you can grow your career with these opportunities offered through GAAR.
Women's Council of Realtor's Luncheon
at Mykonos Cafe and Taverna
Thursday, March 16, 2017
11:30 am - 1:30 pm
Learn More
Online: Flexmls Coffee Break - Photo Uploader
Tuesday, March 21, 2017
10:00 am - 10:15 am
Learn More
CRS 204: Buying and Selling Income Properties: 10 CE (Education)
Wednesday, March 22, 2017 -
Thursday, March 23, 2017
8:00 am - 5:00 pm
Learn More
GAAR Lunch & Learn: Business Mission, Vision & Goals
Monday, March 27, 2017
11:30 am - 1:30 pm
Learn More
Affiliate Q&A: Why Photos and Staging Matter
Wednesday, April 05, 2017
8:30 am - 11:00 am
Learn More
"Real Spiel" Toastmaster Club
1st & 3rd Monday of Every Month
12:30 pm - 1:30 pm
Learn More
Be sure to check our Education Calendar and our Special Events page for all of GAAR's 2017 classes and events.