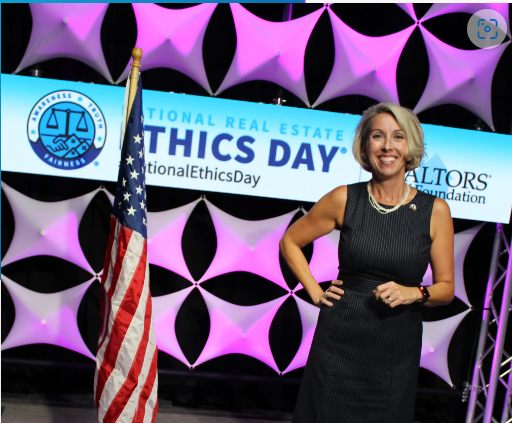 Ready to participate in a required class in a fun & non-traditional way?
If you said, "yes!"… then join us for National Real Estate Ethics Day®! Leigh Brown will instruct this class LIVE and you are invited.
As a REALTOR® you have a duty to your clients, duty to the public, and duty to other REALTORS® to remain informed on issues affecting real estate. This course will be taught by world-renowned speaker and coach, Leigh Brown. Get your triennial COE requirement taken care of AND drive your business practices and improve professionalism overall. It's a win-win!
Understanding the Code of Ethics and its requirements makes you a better REALTOR®. This course will walk REALTORS® through ALL of the articles of the Code with emphasis on the most misunderstood and/or most violated. REALTORS® will learn how Fair Housing *should* impact their business and their community for the better. Bringing the very best presentation to buyer and seller clients is the number one goal and following the Code can help you do that. This course provides REALTORS® with a reliable reference for guidance in dealing with complex situations in today's day-to-day practice of real estate.
2023 REALTOR Code of Ethics: Conversion Using the Code
4 CE (Ethics/NAR)
Thursday, June 29th
11:00 am - 3:00 pm
LIVE via ZOOM
$20 GAAR Member / $30 Non-GAAR Member
Instructor: Leigh Brown
Registration fees benefit the REALTOR® Relief Foundation


---
Additional contributions to the Foundation can be made here:
REALTOR® Relief Foundation Donations.
---
Leigh Brown, ABR, AHWD, CDEI, CDPE, CIPS, CLHMS, CRS, C2EX, ePRO, MilRes, SFR, SRES, is the founder of Charlotte, N.C.-based One: Community Real Estate. With over 20 years of experience in the real estate industry, Leigh has successfully led her team to consistently be one of the top teams in North Carolina.
Leigh has served her profession as a volunteer on the local, state, and national levels since 2012. She was the 2017 President of the Residential Real Estate Council, the 2018 Chair of the REALTOR® Political Action Committee (RPAC) Trustees for Fundraising, 2019 RPAC Fundraising Liaison, and in 2020, Leigh joined the National Association of REALTORS® Executive Committee. She has served on the Advisory Board for the REALTORS® Relief Foundation since 2018 and serving as the National Association of REALTORS® Vice President of Advocacy for 2021.
In addition to her impressive real estate career, Leigh serves her local community in various capacities, including board member of Habitat for Humanity, the Harrisburg YMCA, and the North Carolina Housing Finance Agency. She has run for public office twice (and lost, but who knows what's
next).
Leigh is focused on training folks to do better, be more, and lead! She is the author of 3 best-selling books, and her inspirational speeches have landed her the title "World's Most Requested Real Estate Speaker".