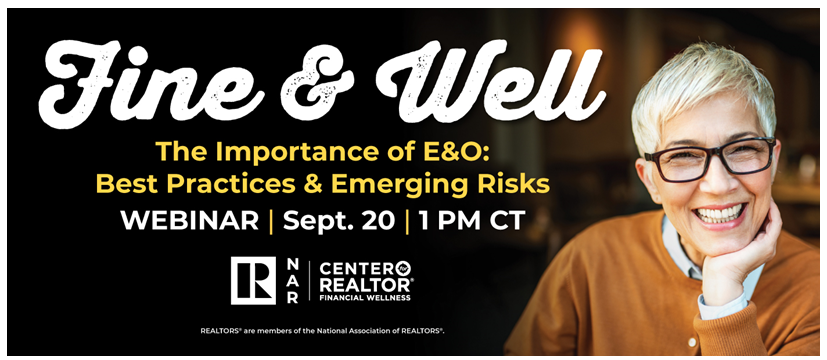 As we observe NAR's REALTOR® Safety Month, your business security remains paramount. Sometimes, mistakes still happen, but errors and omissions (E&O) insurance can help.
The presentation will center on how E&O insurance protects both your business and personal assets by highlighting examples of real life claims scenarios encountered by REALTORS®. The webinar will detail best practices for REALTORS® during the performance of professional services to avoid claims and touch on emerging liability risks in the real estate market.
Join NAR when they take a deep dive into safeguarding your business.
WEBINAR: The Importance of E&O: Best Practices & Emerging Risks for REALTORS®
Wednesday, September 20th
12:00 pm MST
NAR Member $10 /Non-Member $15

Zach Vollmer, RPLU+, Real Estate Leader - Victor Insurance Managers
Zach is the Global Transformation Project Leader for Victor and is responsible for leading growth strategies across operating companies and geographies. Zach continues to lead the U.S. real estate practice and is responsible for management of the underwriting team and portfolio performance.
These monthly webinars are designed to help REALTORS® understand financial topics on a deeper level. Presenters include subject matter experts who will provide tips, planning options, and an array of valuable information to help REALTORS® advance their financial journey.