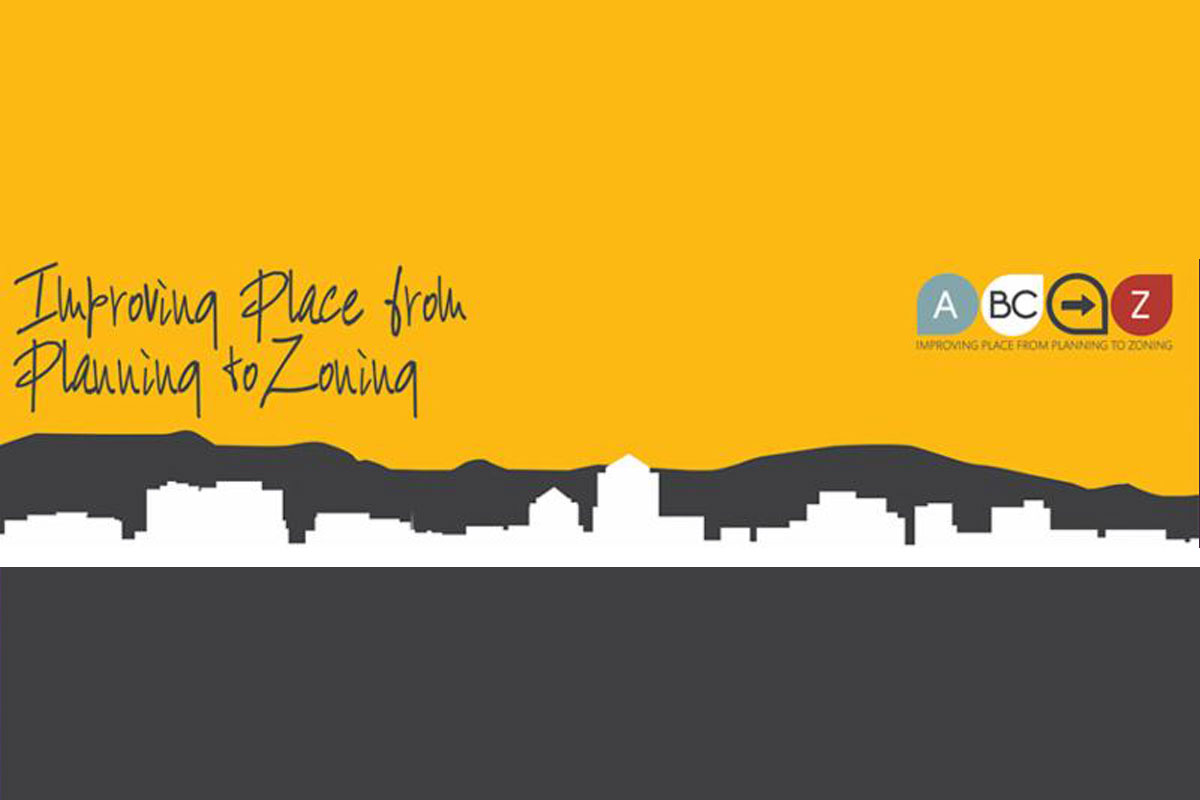 This IDO resource guide was created for SWMLS users and contains information about IDO Zoning specific to FLEXMLS and MLS listings. May 17, 2017 is the switch-over date for the Albuquerque IDO zoning changes and is also the first day in FLEX that users can start selecting the new codes on their MLS listings. We have created a short FAQ Style resource for SWMLS users to guide you through the zoning transition in FLEXMLS.
What is the IDO and Comprehensive Plan? An ambitious project to update the Albuquerque/Bernalillo County Comprehensive Plan and to integrate and simplify the city's zoning and subdivision regulations to implement the resulting plan. The City Council adopted the Integrated Development Ordinance (IDO) in November 2017 and amendments in April and May 2018. The IDO will become effective on May 17, 2018. The City website has created a resource library to learn more about the ABQ Comprehensive Plan and Integrated Development Ordinace. To learn more, additional reading may be necessary by visiting their Frequently Asked Questions pages.
Special Training classes are now available for SWMLS members during the IDO Zoning switchover date occuring on May 17, 2018.
These classes will focus on the IDO changes occuring in FLEXMLS, how this will affect your listings, and also learn about the tools available to assist you with entering accurate Zoning codes on new and existing listings after the switch-over date on May 17th.
Where can I compare the old Albuquerque and new IDO zonings. Do you have a printout?
Here are the zoning conversion guides provided by the City of Albuquerque.
For a quick reference we have provided the following table showing the common conversion types for the Albuquerque Zonings in FLEXMLS.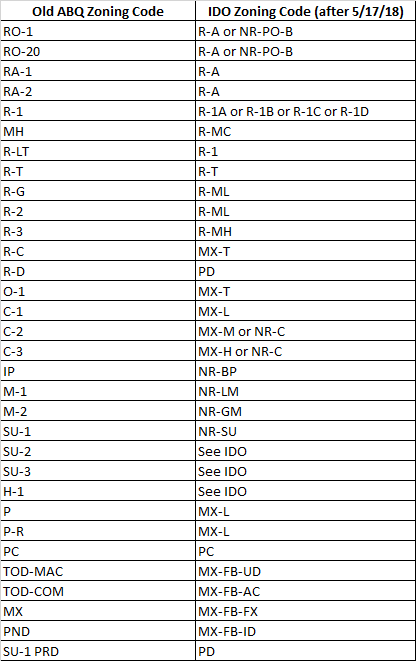 What is changing in FLEXMLS as part of the IDO Zoning changes?
The old Albuquerque Zoning Overlay will be disabled after May 17th. This means that Auto-Populate on new and exisitng listings will no longer update the Zoning for an Albuquerque listing. We expect to have the new IDO Zoning Overlyay map added, and Auto-Pop turned back 4-6 weeks after the IDO switch-over date.
The New IDO Zoning codes will be available as Zoning choices in FLEXMLS starting May 17th. The older Albuquerque codes will still be availalbe choices in the Zoning list since the same codes are also used in other New Mexico cities and counties. The 21 of new 24 IDO Zoning codes will be identified with a special * symbol next to the code to identify that code as *Only used as an IDO zoning choices. For example, if your Albuquerque listing is zoned R-ML then you would not want to choose the older code of R-2 and instead choose R-ML*.
Are there any mapping tools that will help me locate the correct zoning for my Albuquerque listing? Yes. Until FLEX has created a new IDO Zoning overlay to use in FLEX we recommend using the Albuquerque Zoning Lookup tool. This easy to use lookup tool allows you type in an address to see what the new Zoning code should be. SWMLS recommends using this lookup tool to ensure accuracy of your IDO zoning choice on a new or existing listing.
IDO Zoning Conversion Map - Note: The map was last updated in March 2018. AGIS will update the map as of May 17, 2018 (the effective date of the IDO) to reflect any platting, building permits, or zone changes that have occurred since March. This map is also useful to check any Bernalillo County address to see if it has an Albuquerque Zoning. If the property is not in the Albuquerque City limits it may still be using the Bernalillo County codes, which did not change.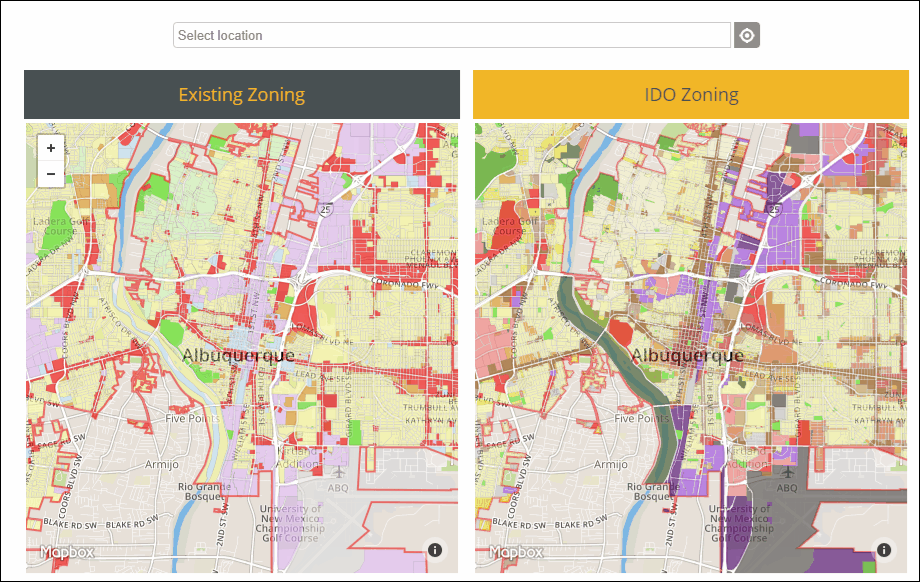 FLEX MLS tips regarding IDO Zoning
On the IDO switchover date of May 17, 2018, SWMLS advises to change the zoning on your listing to match the IDO zoning if the listing is Active and currently for sale.
The older Albuquerque Zoning Codes will continue to display on historical and off-market listings (our Solds go back to 1990).
When searching by Zoning make sure you know which zoning you are searching for in Albuquerque. For example, If you are looking for a property that was sold or expired prior to May 17, 2018 you will need search the older zoning code. For a comprehensive zoning search we recommend choosing both the original and new IDO zoning choice to ensure you did not miss out anything in the search results.
The Zoning codes are not changing in Bernalillo county. If you are listing a property in Bernalillo, but not in the Albuquerque city limits, you will most likely choose the Bernco Zoning code, not the IDO zoning. Bernalilllo County uses the following zoning codes: A-1, A-2, R-1, R-2, M-H, O-1, C-N, C-1, C-2, C-LI, M-1, M-2.
The most common Albuquerque Zoning code R-1 was split up into four types. R-1A, R-1B, R-2C, R-3C. See Table 2-3-3 below to determine the correct code based on the Lot Size and Width.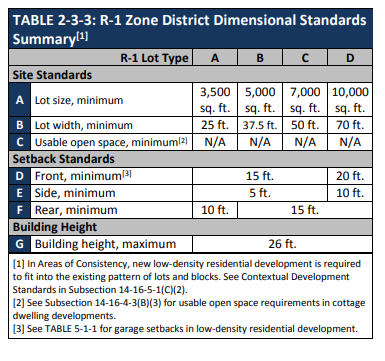 This article will be revised throughout 2018 to reflect any revisions to FLEX MLS or the IDO zoning codes that may occur.