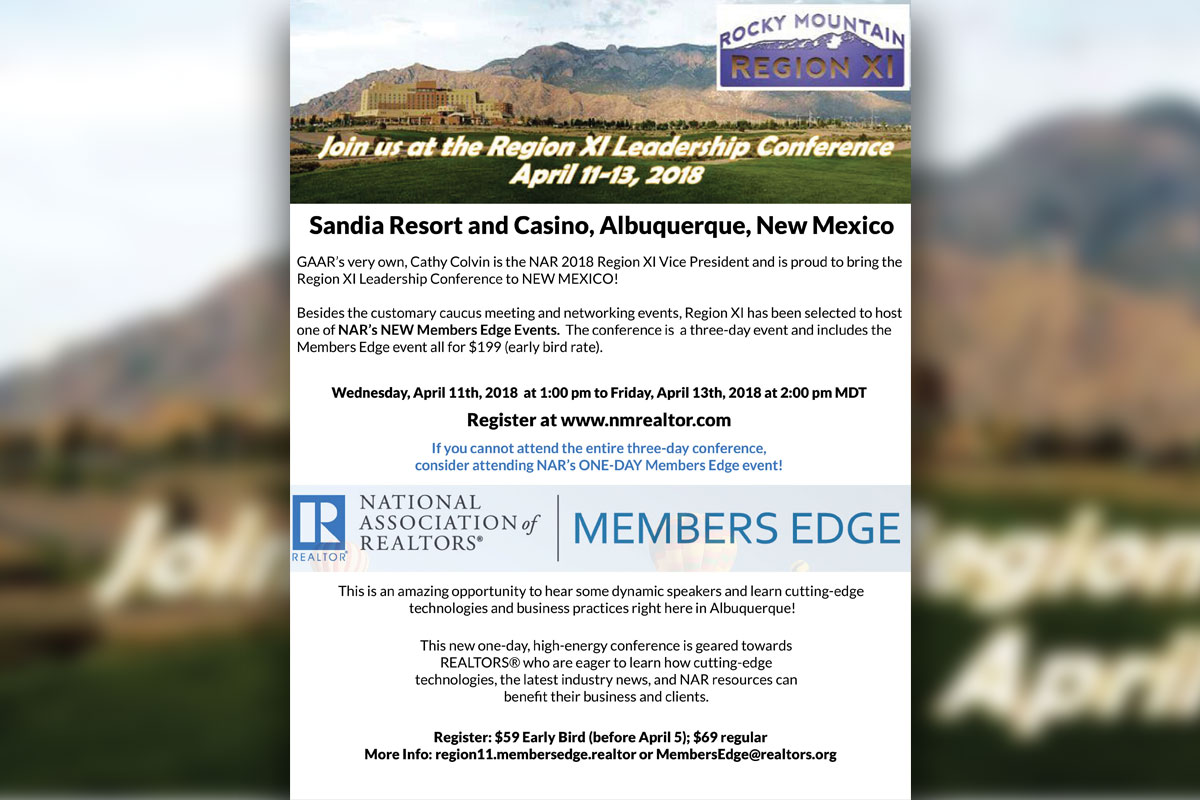 Register today for NAR's Region XI Leadership Conference which will be here in Albuquerque on April 11-13, 2018.
This three-day event will be held at the Sandia Resort and Casino and will include the customary caucus meetings, networking events and the new Members Edge event!
GAAR's own Cathy Colvin will play a major leadership role in this special conference as she is Region XI's Vice President AND it will be held right here in Albuquerque! We are sure to see REALTORS® from all states within Region XI joining us.
Join your Region XI REALTOR® colleagues for all the fun, education and networking opportunities – all for just $199. (Rates change after March 15th.)
Registration and lodging information for the three-day conference can be found at www.nmrealtor.com.
One-day Region XI - NAR Members Edge Event
April 12, 2018
If you cannot attend the entire three-day conference, consider attending NAR's ONE-DAY event, MEMBERS EDGE!
Region XI is one of only two NAR regions to be selected to host its NEW one-day Members Edge event. This event is 'day two' of the Leadership conference – April 12th – from 9:00 am to 4:30 pm. Network with your fellow REALTORS® from across Region XI at the Members Edge event. This event is geared towards REALTORS® who are eager to learn from the experts how cutting-edge technologies, the latest industry news, and NAR resources can benefit their business and clients.
Note that the three-day conference also includes the Members Edge event – BUT, if you cannot attend for the full three days, you can register only for the ONE DAY Members Edge event. Just go to www.region11.membersedge.realtor. The Early Bird rate is just $59. (Rates change after April 5th.) Sign up today and save!
Register Now! Let's fill the house, GAAR Members!