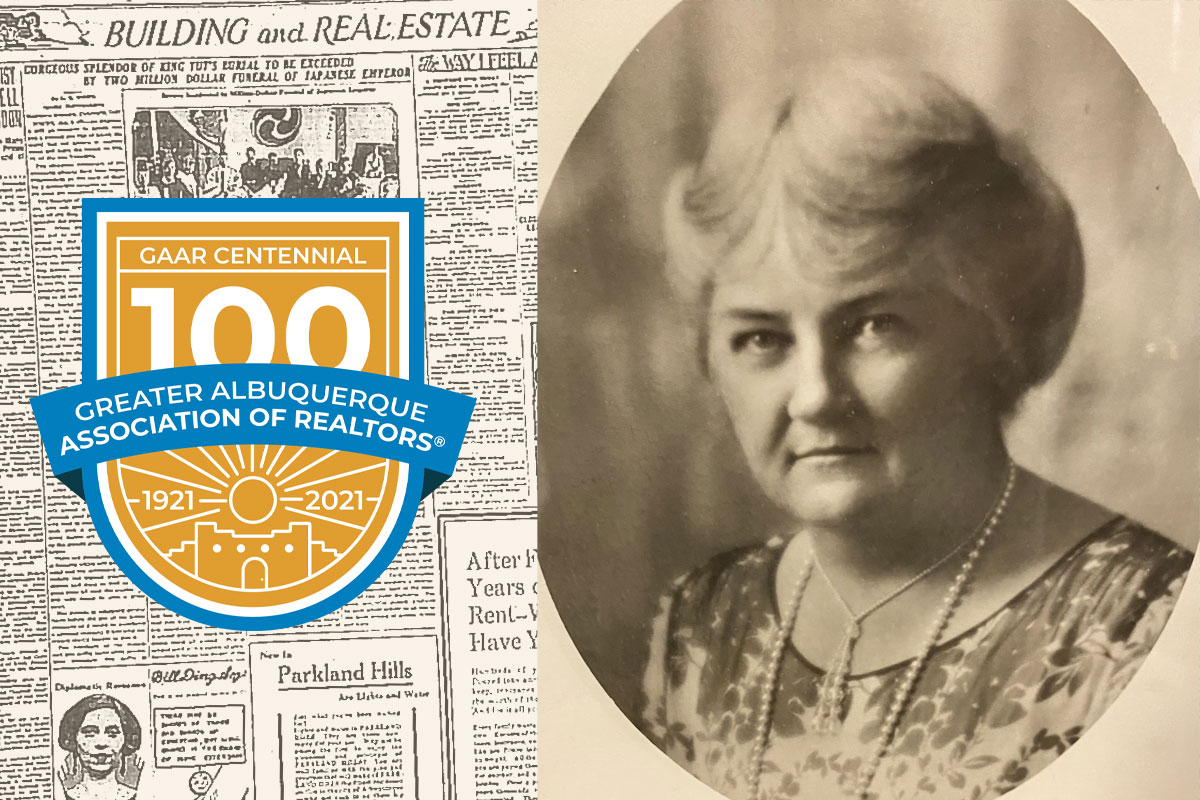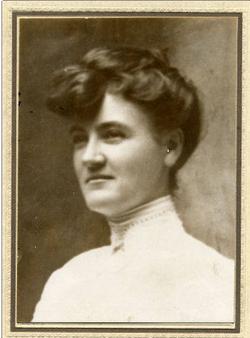 Margaret Medler, 1932 GAAR President
This information was reprinted from the Rocky Mountain Online Archive.
Margaret (Marguerite) Elizabeth Kent Medler (nee Kent), Albuquerque real estate agent and socialite, was born in 1873. She came to New Mexico in a covered wagon in 1880. Her father, Frederick H. Kent, built the family home in Albuquerque's New Town. He was a pharmacist and realtor who ran a drug store in Albuquerque's Old Town and was regarded as one of Albuquerque's oldest and wealthiest residents. Medler attended Albuquerque High School and Kentwood College in Illinois. She married lawyer Edward L. Medler in 1901, who at the time was an assistant to U.S. attorney W.B. Childers. The couple divorced in 1906, although Medler continued to use her married name in association with her maiden name throughout her life.
Margaret Medler devoted her time to moving in Albuquerque's social circles and to running her father's realty business, the F.H. Kent Agency. The F.H. Kent Agency was established in 1882 to sell real estate and insurance. Medler clerked for her father prior to her marriage and continued to work in the office throughout her life. She became manager of the F.H. Kent Agency in 1919. At that time the office specialized in insurance, real estate, rentals, loans, and surety bonds.
This information was reprinted from the Biographical Sketch of Margaret Elizabeth Kent Medler
Margaret Medler was involved with women's organizations in New Mexico. According to the History of Woman Suffrage, she supported the state's efforts for woman suffrage. Most of this work was likely due to her role with the woman's club. In 1918, she was elected as president of the Albuquerque Woman's Club for the sixth time, leading the club's efforts on war work, child welfare, and social hygiene. In 1920, Medler attended an event put on by Albuquerque women to celebrate the ratification of the Nineteenth Amendment. Medler was active in the state Republican Party. In 1928, she served as the state's vice chair, and she headed the woman's division. Four years later, she was selected as the state's national committee chair. In 1930, she served as the financial chair for the State Federation of Women's Clubs.
Besides suffrage, club, and political party work, Margaret Medler kept busy in her local community. Medler was a tennis player and an avid patron of the theater. In 1900, she traveled to Denver to compete in a tennis match. She helped with numerous theater productions, including two at the Grant Opera House. Medler kept an extensive scrapbook of meaningful events from 1884 to 1918. The scrapbook contains newspaper clippings, playbills, and event programs that shed light on her social connections. She hosted and attended many social gatherings. Medler served as the vice president of the Albuquerque Humane Society and received praise from the president of the American Humane Association for her efforts in helping stop animal cruelty in 1908. In 1930, Medler served on the board of a child care center in Albuquerque. She provided significant financial support and requested that the center be renamed "Christina Kent Day Nursery," in honor of her mother. The Christina Kent Early Childhood Center still operates in Albuquerque today.
The F.H. Kent Agency ceased operations in 1942, shortly after Medler's death. Socially, Medler was involved in the lives of many Albuquerque residents, as newspaper clippings attest to her role in organizing and attending social events. Medler died suddenly in 1942 in her Albuquerque home.
---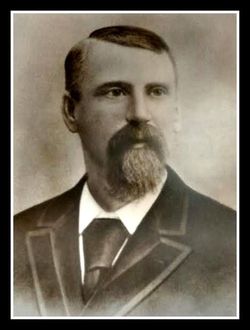 Photo added by S. Schwartz, Fairview Historian
Frederick Herbert Kent (Margaret Medler's father)
This information was reprinted from a Memorial on Find A Grave
Mr. F. H. Kent was the first postmaster of New Albuquerque from February 10, 1881 to June 30, 1882 according to the Bernalillo County Post Office History transcribed by C. W. Barnum. This post office was located near the new railroad tracks. Old Town (Old Albuquerque) was given its own post office on February 2, 1883.
Ran a drug store.
Died at 923 W Copper, his home. A Mason and was past grand master of the NM Grand Lodge. Commanded a long-established Real Estate and Insurance business in Albuquerque. Leaves a widow and a daughter, Mrs. Margaret Medler.

Sources:
"Rocky Mountain Online Archive"
"Biographical Sketch of Margaret Elizabeth Kent Medler"
"Find A Grave"