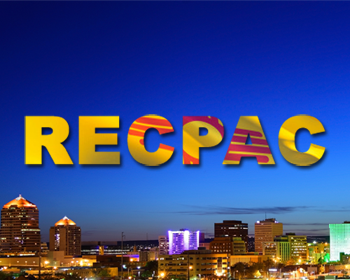 GAAR is one of the only local REALTOR® Associations nationwide that has direct control over local candidate and policy issues spending.
We did this by joining forces with Commercial Association of REALTORS® New Mexico (CARNM) in 2006 to form and fundraise for the Real Estate Community Political Action Committee (RECPAC).
RECPAC originated because GAAR and CARNM members wanted a louder voice in local elections. More attention to local and state candidates and issues were needed because their ordinances and laws can more directly effect how our members are able to conduct business with their clients.
Officially stated, RECPAC is organized and operated exclusively for the purposes of supporting the nomination and election of candidates for public office throughout the state of New Mexico who share the ideals and principles of REALTORS®, and otherwise doing any and all things necessary to support the public policy agenda of GAAR and CARNM.
In short, through RECPAC, we have the authority to fundraise and support local candidates and issues.
RECPAC also allowed us to enter into the 2007 Cooperative Agreement with the REALTOR® Association of New Mexico and the REALTORS® Political Action Committee (RPAC) that allows a more equitable share of RPAC funds for use in support of the election or nomination of Greater Albuquerque's local and state officials.
RECPAC Funds are also used to advocate for the three core issues related to a strong local real estate market:
Since Citizens United, advocating issues has become more expensive than ever. Large, out-of-state donors can contribute to national PACS that drown out our smaller local voices. But we all know local people and businesses better understand our own needs of the community. That is why we need you to join RECPAC. Membership is only $25 a year – however, contributions of any size will gladly be accepted!
Additionally, because RECPAC is not overseen by National Association of REALTORS® we can also accept contributions from our affiliate members and concerned citizens.
If you want to make a contribution now, just download this form and follow the instructions.
Stay tuned to GAAR's Weekly Passport to continue to learn more about RECPAC activities and issues.