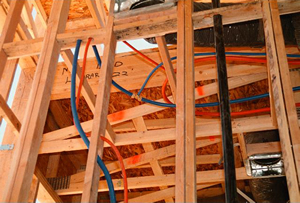 Homeowners with Kitec Plumbing Systems have until January 9, 2020 to apply for payment under the Class Action Settlement, but should file their claim now since the funds are limited.
During the housing boom from 1995 to the downturn in 2007, thousands of homes were built in Rio Rancho and Albuquerque's west side. Many of those new homes installed Kitec plumbing fixtures.
Even though Kitec was recalled in the late 1990's, some New Mexico builders continued to use the product. This has left many Albuquerque and Rio Rancho homeowners at risk of structural damage and massive flooding. Because of the type of damage it can cause, Kitec repairs can range upward of $20,000.
In this multi-part series, we will provide you with information you can pass on to your clients and information you need to know as a REALTOR® about disclosure requirements for legal cases like Kitec Plumbing Systems, Polybutylene Plumbing Systems and Sonotube Ducting.
Part 1: Consumer Information
How to detect Kitec Plumbing Systems
Kitec systems consist of brass fittings with flexible piping throughout the house. While Kitec piping was sold in red, blue, gray and black, the most common configuration is blue for cold water and orange for hot water. Kitec (or one of their various names) is typically printed on the piping and a capital KT can typically be seen on the brass compression fittings.

One of the easiest ways to determine if a home has Kitec is to look at the pipes going into and out of the hot water heater. The flexible piping will have Kitec (or one of their other various names) stamped on them. Their other names include PEX-AL-PEX, PE-AL-PE, PERT-AL-PERT, PEX pipe, valves, fittings, and/or components, manufactured by or on behalf of IPEX whether sold under the names Kitec, PlumbBetter, IPEX AQUA, WarmRite, Kitec XPA, AmbioComfort, XPA, and KERR Controls.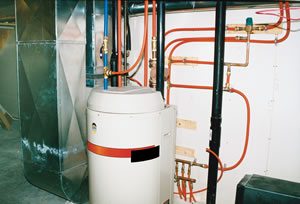 Your seller should have their Kitec System inspected by a licensed plumber even if they have yet to see damage. If the system is not replaced, it should be regularly monitored. The first sign of failure of the fittings is a buildup of white residue on the outside. The first sign of failures for the pipes is blackening of the pipe and/or bulging. Problems are more likely to occur first near the hot water tank.
IBEX, the seller of Kitec, was sued across the US and Canada because of the brass fitting failures and the major structural and flood damage. On November 17, 2011, the United States Court entered an Order for Final Certification of the US Class, Approval of Class Action Settlement, and Entry of Final Judgment. The Settlement Agreement became effective on January 9, 2012. The Claims Administrator has begun the procedure of processing and paying claims.
Filing a claim
If your seller has the Kitec Plumbing System and has paid for repairs or replacement, they should file a claim and include their receipts. They may be eligible for payment from the settlement even if they already sold their home. They can even apply for payment if they performed their work themselves.
Sellers of properties with no leaks or damage should also file a claim. However, their payment will be disbursed after all repair and damage claims are paid first. If the seller has already filed this type of claim, and a leak develops, the seller or the new homeowner should repair the leak and file a second claim for the damage (or have their insurance company file the claim).
As a requirement of filing a claim the homeowner must show proof that the property has the Kitec System installed. Their preferential method is to have claimants send a piece of pipe from their home, but the Claims Administrator may accept other validation if cutting the pipe is not possible or if the system has already been replaced. To file a claim, most homeowners will need to hire a plumber to provide the evidence through a report, photos or by cutting out a piece of the flexible piping.
For more details on the class action lawsuit and how to file a claim, visit kitecsettlement.com.
Tune in to our next Weekly Passport for Part 2: Information for REALTORS® – Kitec disclosure requirement plus information about polybutylene plumbing.
*****
Related