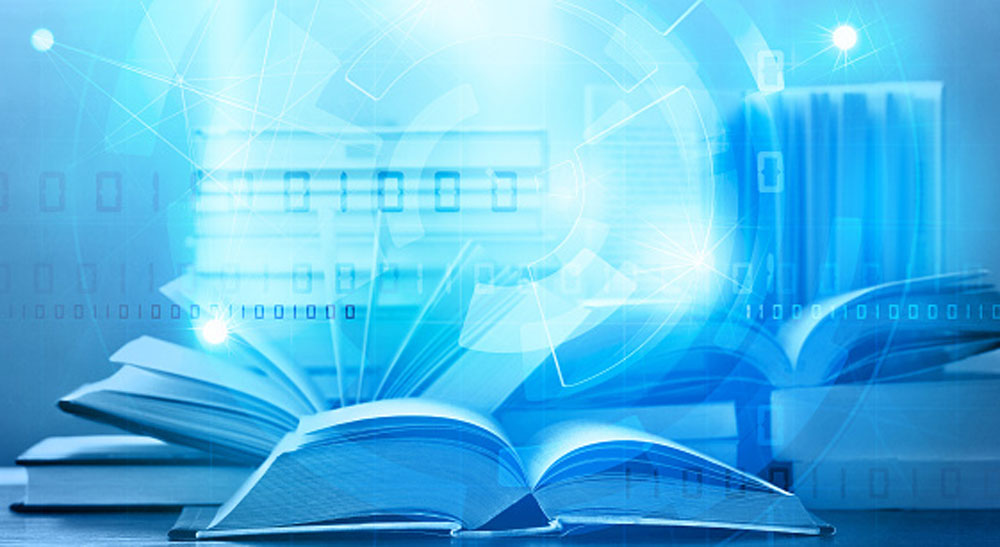 (Updated April 2017)
Smart devices are fun to use, make our lives easier, and run the gamut from cell phones to home appliances to children's toys. However, with this technology come security risks. A rule of thumb to keep in mind is that a smart device not only has the ability to relay information to you, it also has the ability to relay information about you. (C. Dodge, Information Specialist)
EBSCO articles available for NAR members only. Password can be found on the EBSCO Access Information page.
What You Should Know About Smart Technology (IoT)
"…At its core, IoT is simple: it's about connecting devices over the internet, letting them talk to us, applications, and each other"… Everything new and shiny has downsides, and security and privacy are the biggest challenges for IoT. All these devices and systems collect a lot of personal data about people – that smart meter knows when you're home and what electronics you use when you're there – and it's shared with other devices and held in databases by companies."
Source: What is The Internet of Things?, (The Guardian, May 6, 2016).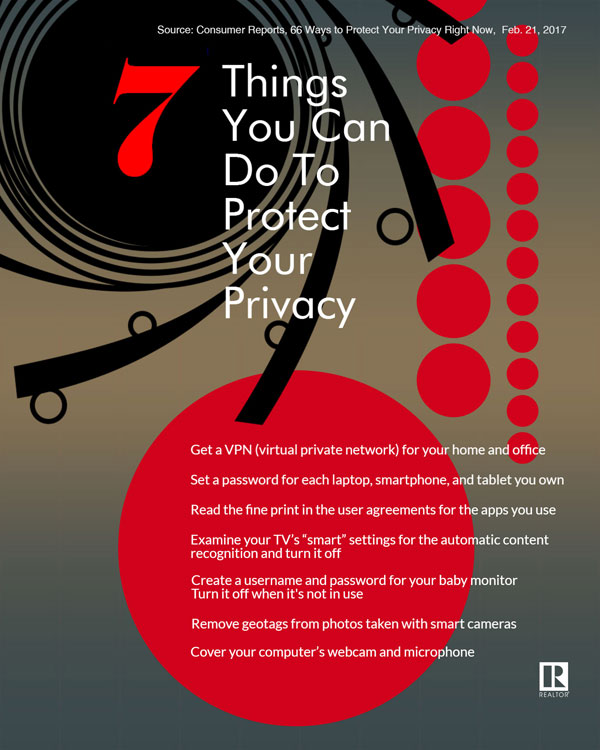 How Secure is Your Smartphone?
Businesses beware: Smartphone malware rises 400% in 2016, Nokia reports, (TechRepublic, Mar. 27, 2017).
With WikiLeaks Claims of C.I.A. Hacking, How Vulnerable Is Your Smartphone?, (The New York Times, Mar. 7, 2017).
Local Police Departments Invest In Cell Phone Spy Tools, (NPR, Feb. 17, 2017).
Is your smartphone listening to you?, (BBC News, Mar. 2016).
Yes, your smartphone camera can be used to spy on you…, (Naked Security, May, 28, 2014).
Your Apps May Be Selling Your Personal Information
Apps are disrupting traditional industries — and your privacy, (CNBC, Aug. 1, 2016).
Is the Facebook Messenger App Recording Your Conversations and Ignoring Privacy Settings?, (Inquisitr, Jun. 4, 2016).
When Apps Act Like Gods: Your Apps Could Compromise Your Privacy, (Trend Micro, Jan. 15, 2016).
Key takeaways on mobile apps and privacy, (Pew Research Center, Nov. 10, 2015).
Are Smartphone Apps Making It Easier To Racially Profile?, (NPR, Oct. 15, 2015).
Privacy Issues and the Smart Devices in Your Home
Your browsing history may be up for sale soon. Here's what you need to know, (The Guardian, Mar. 28, 2017).
Banned In Germany: Kids' Doll Is Labeled An Espionage Device, (NPR, Feb. 17, 2017).
Privacy & surveillance concerns over voice-recognition devices, Google Home & Amazon Echo(link is external), (AirTalk, Oct. 11, 2016).
Is Your Smart Security Camera Protecting Your Home Or Spying On You?, (Forbes, Aug. 22, 2016).
Virtual assistants such as Amazon's Echo break US child privacy law, experts say, (The Guardian, May 26, 2016).
Samsung changes Smart TV privacy policy in wake of spying fears, (CNET, Feb. 10, 2015).
Protect Your Privacy
How Not to Protect Your Privacy Online, (Gizmodo, Mar. 31, 2017).
How to Hide Your Browsing History From Your Snooping ISP, (Gizmodo, Mar. 29, 2017).
VPNs Won't Save You from Congress' Internet Privacy Giveaway, (Wired, Mar. 28, 2017).
How to Remove Geotags From Pictures Taken With Your iPhone, (Lifewire, Mar. 10, 2017).
How Can I Protect My Smartphone and Smart TV From Getting Hacked?, (NBC, Mar. 8, 2017).
66 Ways to Protect Your Privacy Right Now, (Consumer Reports, Feb. 21, 2017).
Cryptoparties Teach Attendees How To Stay Anonymous Online, (NPR, Feb. 6, 2017).
7 ways to keep your smart home from being hacked, (MarketWatch, Oct. 20, 2016).
About privacy and Location Services in iOS 8 and later, (Apple, Inc., Sep. 15, 2016).
Firms Are Buying, Sharing Your Online Info. What Can You Do About It?, (NPR, July 11, 2016).
Mark Zuckerberg tapes over his webcam. Should you?, (The Guardian, Jun. 22, 2016).
Why You Should Not Use The New Smartphone Fingerprint Readers, (Forbes, Mar. 5, 2015).
Six ways your tech is spying on you – and how to turn it off, (The Guardian, Feb. 10, 2015).
eBooks & Othe​r Resources
eBooks.re​altor.org
The following eBooks and digital audiobooks are available to NAR members:
After Snowden, (Kindle, Overdrive, EPUB)
Controlling Knowledge, (Overdrive, EPUB, Adobe eReader)
Invasion of Privacy, (Adobe eBook)
Obfuscation, (Kindle, Overdrive, EPUB, Adobe eReader)
Privacy and Information Rights, (Adobe eReader)
Privacy at Risk, (Kindle, Adobe eBook)
Privacy Lost, (Adobe eBook)
Unwarranted, (Overdrive Audio)
You: For Sale, (Kindle, Overdrive, EPUB, Adobe eReader)
Books, Videos, Research Reports & More
The resources below are available for loan through Information Services. Up to three books, tapes, CDs and/or DVDs can be borrowed for 30 days from the Library for a nominal fee of $10. Call Information Services at 800-874-6500 for assistance.
Irresistible: The Rise of Addictive Technology and the Business of Keeping Us Hooked, (New York, NY : Penguin Press, 2017). HM851 .A437
The Internet of Risky Things: Trusting the Devices That Surround Us, (Boston, MA: O'Reilly Media 2017). TK5105.8857 .S65
Abusing the Internet of Things: Blackouts, Freakouts, and Stakeouts, (Sebastopol, CA : O'Reilly Media, 2015). QA76.9.A25
Cunningly Smart Phones: Deceit, Manipulation, and Private Thoughts Revealed, (Place of publication not identified: Xlibris, 2015). QA76.9. W41
The Internet of Things: How Smart TVs, Smart Cars, Smart Homes, and Smart Cities Are Changing the World, (Indianapolis, IN : Que, 2015). QA76.5915
Age of Context: Mobile, Sensors, Data and the Future of Privacy, (United States : Patrick Brewster Press, 2014). HM851 .S36
Here comes everybody: the power of organizing without organizations, (New York : Penguin Press, 2008). HM 851 S56
The future of the Internet and how to stop it, (New Haven, CT: Yale University Press, 2008). TK 5105.5 Z6
Field Guides & More
These field guides and other resources in the Virtual Library may also be of interest:
Field Guide to Choosing & Using a Smartphone
Field Guide to Using Privacy & Security Features in Social Media
Have an Idea for a New Field Guide?
Click here to send us your suggestions.
The inclusion of links on this field guide does not imply endorsement by the National Association of REALTORS®. NAR makes no representations about whether the content of any external sites which may be linked in this field guide complies with state or federal laws or regulations or with applicable NAR policies. These links are provided for your convenience only and you rely on them at your own risk.