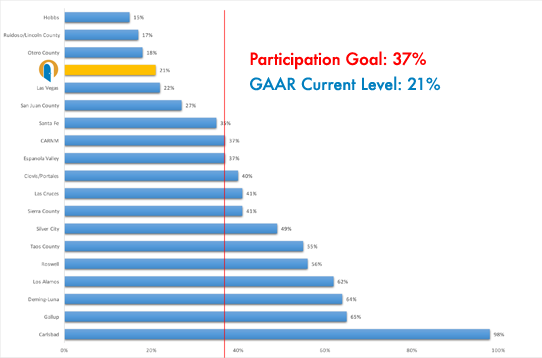 GAAR has the distinction of being over-achievers. As a whole, the Association strives to be the best at everything we do.
That is, for everything except for one very important measure…our RPAC Participation.
Sadly, GAAR's RPAC participation is one of the lowest in the state – barely edging out Hobbs, Ruidoso and Otero County.
Since advocacy for the future of the real estate industry and the rights of homeowners is one of the top duties of REALTORS®, we definitely want to improve our particpation in the REALTOR® Party fast. To meet the 37% RPAC participation goal set by NAR, we need to get 500 additional members to contribute at least $15 prior to the new billing cycle in October.
You can help us meet the NAR goal by:
Join us for our GAAR Phone-A-Friend Beach Party on Wednesday, July 27th from 12:30 pm to 3:00 pm. NAR's national phone-bank/fundraising trainer will be here in person to train members on the cutting-edge software, the most effective way to ask for contributions and basic cold-calling skills (a valuable skill for all REALTORS®). Throw on your best Hawaiian-print shirt, shorts and flip-flops and join us for games, beach eats and margaritas (after the calls are made because we don't want to drunk dial our friends).
Click here to donate $15 to RPAC now if you have not done so before. Not only is this an important investment in your career, it will keep your fellow REALTORS® from calling you on July 26th!
Click here to sign up for our GAAR Phone-A-Friend Beach Party.