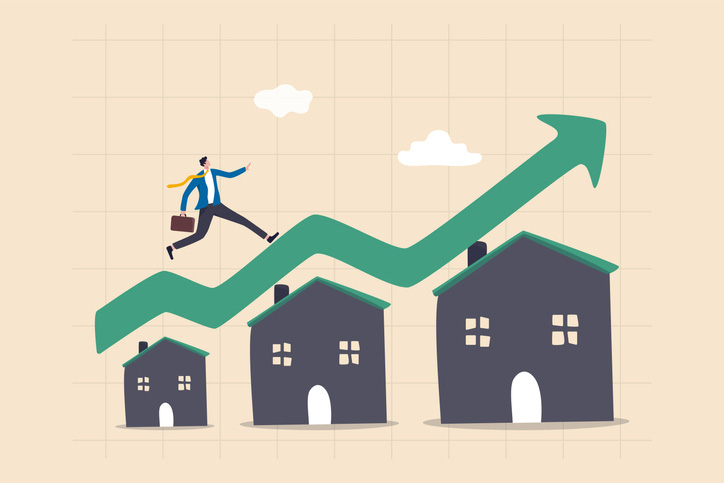 By Ron Davis – Reporter, Albuquerque Business First, Jan 11, 2022
For the second consecutive month, the median sales price for a single-family home in the Albuquerque metro set records.
According to the December report from the Greater Albuquerque Association of Realtors, housing prices and inventory continued their respective trends to close out the year. The median sales price of $315,000 eclipsed November's $310,000 mark, which set a new record at the time, and represented an increase of nearly 19% over the previous year. Just 592 single-family detached homes were listed on the market dropping from November's mark 879 and representing a decrease of more than 46% over December 2020.
Bridget Gilbert, GAAR's 2022 president and the qualifying broker of ERA Sellers & Buyers Real Estate, said the climbing price points are a direct result of low inventory in the market. Gilbert added that a competitive bidding process among prospective buyers has driven up the sales price between $25,000 and $50,000 above the list price sometimes.
"There's a lot of cash out there right now. [Buyers] are able to pay the difference between the appraised value and what they bought it for," said Gilbert, who has been a licensed broker since 1995 and succeeded Belinda Franco as GAAR's president. "Will we keep up with the appreciation that buyers paid for the house and did they have enough time to recoup that appreciation that they essentially paid for in advance?"
Among other benchmarks contained in GAAR's December report on single-family home sales in the Albuquerque residential market:
New listings in the Albuquerque residential market decreased by 15.2% (692 listings) compared to the previous year. This figure often follows seasonal patterns.
Days on the market decreased by 14.3% (18 days) compared to the previous year.
Percent of list price received increased by 0.9% — to 100.4% — when compared to the previous year. The percent of list price is calculated by dividing a property's sales price by its most recent list price, then taking the average for all properties sold in a given month. The figure does not take into account seller concessions.
A solution that Gilbert, other real estate agents and buyers could look toward to mitigate the short supply are new communities coming online. The price of new construction, however, makes it tough for new homebuyers to enter the housing market. Because of that, Gilbert expects inventory to hover around its current mark and average and median sales prices to rise in 2022.
Pulte Development New Mexico, a subsidiary of Atlanta-based national homebuilder Pulte Group, said it plans to build nearly 1,000 new home lots in 2022 across six communities, including five in the Albuquerque market. Meanwhile, Price Land Development Group has plans for more than 500 lots for new phases of communities in Santa Fe, Rio Rancho and Albuquerque in the first quarter of 2022.
Gilbert commended area real estate agents, lenders and title companies for working together throughout the Bernalillo County ransomware attack, which has halted several aspects of "routine" business in Bernalillo County. That routine business includes filing deeds, mortgages, checking for liens or judgments against property or retrieving tax information.
Source: "Median sales price for Albuquerque homes reach new highs ... again"