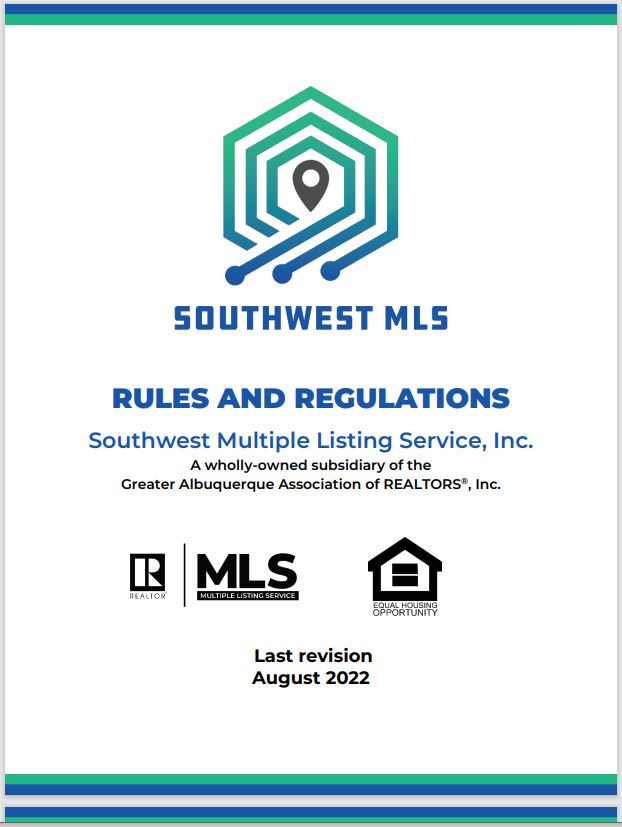 The SWMLS Board of Directors approved the following changes to the SWMLS Rules and Regulations effective on Monday, August 1st, 2022.
Section 1.21 Minimum Required Photos
This rule applies to every listing status (except Coming Soon), so a listing that is moved to Closed cannot delete photos below this minimum requirement. All listings will be proactively checked by an AI computer vision system called Restb.ai along with Data Checker, and members will be required to provide the minimum number of photos or face fines. Minimum Required Photos explained in this video: Minimum Photos Policy

Required Documents
The rules for Lead Based Paint Disclosure and Public Improvement District Disclosure were already in place, but SWMLS has also added a third required document rule for Tax Levy Disclosure. All three rules will now be proactively checked by Data Checker, and members will be notified to bring their listing into compliance if the rule applies. Specifically:
Section 1.18.1 Lead Based Paint Disclosure: Required on all homes built prior to 1978
Section 1.18.2 Public Improvement District Disclosure: Required on all listings that exist within a PID
Section 1.18.3 Tax Levy Disclosure: Required for ALL Residential or Residential Income listings
Required Documents are explained in this video: Document Enforcement
Other Rules Updates
There have been quite a few minor changes made to the SWMLS Rules and Regulations to bring them into alignment with NAR Policy. These changes are explained in this video: Rule Changes
Please review the Redline to see all of the changes.
Below are a few not previously mentioned but specifically noted:
Definition of a Bedroom (page 6 in the Redline) – SWMLS has added a definition for "Bedroom" in order to standardize and simplify understanding of what does or does not count as a bedroom within the MLS.
Section 4.5 Services Advertised as "Free" (page 23 in the Redline) – This is one of the major rule changes from NAR. "MLS participants and subscribers must not represent that their brokerage services to a client or customer are free or available at no cost to their clients, unless the participant or subscriber will receive no financial compensation from any source for those services."
Section 7 Compliance with Rules, Note 2 (page 29 in the Redline) – MLS participants and subscribers can receive no more than three (3) administrative sanctions in a calendar year before they are required to attend a hearing. More information is coming about this change in the near future.
Display of Broker Compensation – Multiple Sections (pages 27, 48, 51, and 60 in the Redline) – Another major shift in policy from NAR, the MLS must now provide compensation in data feeds, and brokers have the option of displaying compensation on their websites should they choose to.
Display of Sold Information – Multiple Sections (pages 42-44, 53, 60 in the Redline) – Another NAR policy shift, the only sold data that an MLS can prohibit display of is the sold price, and that is only if the sold price is not publicly available. This is the case in New Mexico, so our rules have been updated to reflect that.
Section 18.2.12 and 19.18 Broker Attribution (pages 50 and 61 in the Redline) – One last major shift in NAR policy. All IDX websites must display the listing broker email or phone number provided by the listing participant. We are updating the rule as of August 1st, but this will not be enforced until Flexmls has the functionality ready sometime before September 1st. If you use one of the large IDX vendors in the industry, they should already be well aware of this requirement as it has been major news among them. However, if you built your own website or used a smaller company that may not be aware of national policy, please call SWMLS to discuss.
Other changes – There are additional changes in the rules that reflect what SWMLS was already doing in day-to-day business so do not cause any drastic change. Those can be seen on page 9 (Accuracy of Listing Data), page 14 (Contact Information), page 16 (Property Addresses), and page 30 (Anonymous Complainant).
SWMLS Rules and Regulations - Also of note is the formating of the document has been updated with a new font and design to make them easier to read. A Table of Contents with a Quick Reference has also been added to help you quickly refer to specific topics.
Documents
NAR Resources for Rule Changes