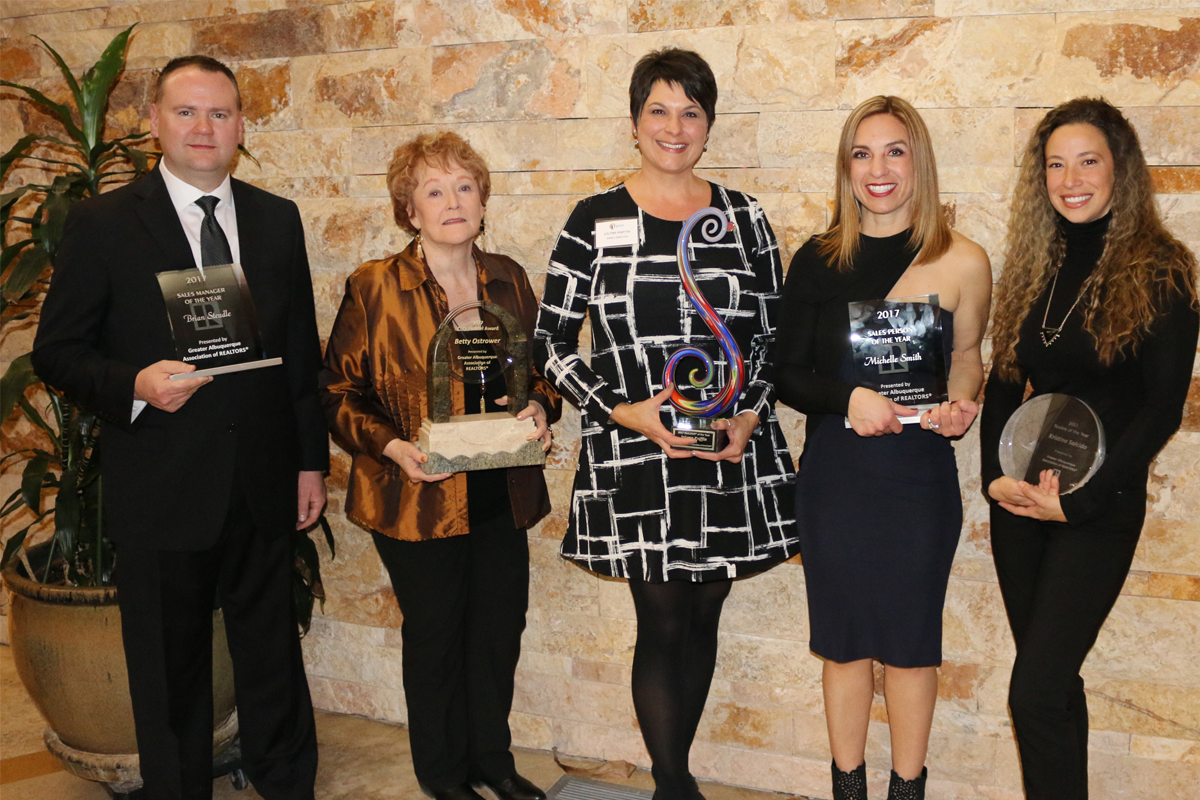 This past Friday, close to 300 REALTORS® gathered at The Albuquerque Museum of Art and History to recognize the best in their industry, celebrate the success of 2017, and raise money for a good cause.
At the start of the new year, the members of the Greater Albuquerque Association of REALTORS® (GAAR) nominate those that exemplify the best in the local real estate industry. The candidates are chosen by their peers based on their contributions to the industry and community as well as their production performance.
The proceeds of the 97th Annual GAAR Awards Gala goes to the Realtor Fund—a charitable trust fund set up to contribute to Albuquerque area charities including APS Title 1 Homeless Project, NM Kids Matter, The Boys and Girls Club of New Mexico, and the Senior Citizens' Law Office.
This year's honorees of the Awards Gala are:
2017 Realtor of the Year: JoLynn Kniffin, ERA Sellers and Buyers Real Estate. One of the highest honors a member can receive during his or her real estate career, the Realtor of the Year award acknowledges someone who has actively contributed to the success of both the REALTOR® organization and the industry, as well as exemplifies professionalism in service to the Albuquerque community.
2017 C.O. Nelson Award: Betty Ostrower. The C.O. Nelson Award recognizes longevity in the industry, significant contribution to the profession, and impactful service to the REALTOR® organization.
2017 Sales Manager of the Year: Brian Steudle, Coldwell Banker Legacy
2017 Sales Person of the Year: Michelle Smith, Coldwell Banker Legacy
2017 Rookie of the Year: Kristina Salcido, Re/Max Elite
2017 GAAR Affiliate of the Year: Mindy Abramson, Distinguishing Style
2017 Security Escrow Scholarship: Kelsey Stevens, daughter of Francie Stevens from Realty One of New Mexico. The Security Escrow scholarship is awarded to encourage real estate as a profession.
Members wanting a physical copy of their production certificate can request one by e-mailing awards@gaar.com.
"We are extremely proud of these award honorees, as well as our entire REALTOR community, for their contributions and commitments to the industry," said Danny Wm. Vigil, 2018 President of the Greater Albuquerque Association of REALTORS®. He added, "This festive event made it even more clear that we are all proud to serve our neighbors and our communities every day as productive, compassionate, and charitable REALTORS®."