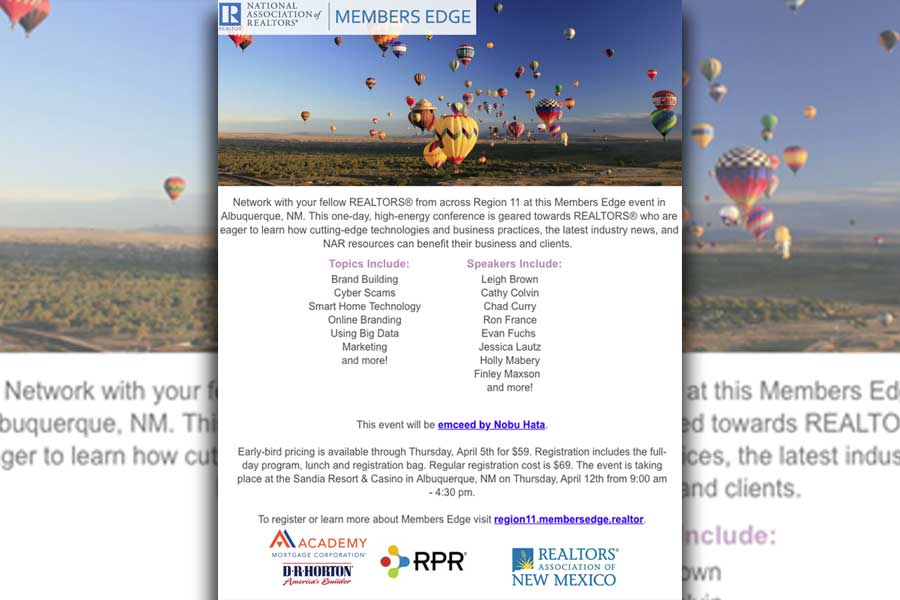 NAR's Region XI Members Edge Event
April 12, 2018
Region XI is one of only two NAR regions to be selected to host its NEW one-day Members Edge event – right here in Albuquerque! This event is "day two" of the full, three-day Leadership conference – April 12th at the Sandia Resort and Casio from 9:00 am to 4:30 pm. This event is geared towards REALTORS® who are eager to learn from the experts how cutting-edge technologies, the latest industry news, and NAR resources can benefit their business and clients. Network with your fellow REALTORS® from across Region XI at the Members Edge event.
GAAR's own Cathy Colvin will play a major leadership role in this special conference as she is Region XI's Vice President. We are sure to see REALTORS® from all states within Region XI joining us.
Just go to region11.membersedge.realtor. The Early Bird rate is just $59 (rates change after April 5th). Sign up today and save!
OR . . . register for the entire three-day Leadership Conference on April 11-13!
If you'd like to attend the full three-day Leadership Conference on April 11-13, go to www.nmrealtor.com for registration and lodging information. This will include the customary caucus meetings, networking events AND the new Members Edge event – all for just $199 (rates change after March 15th).
Register Now! Let's fill the house, GAAR Members!