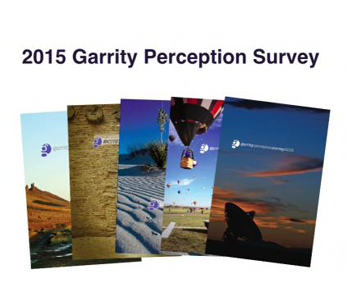 GAAR participated in the 2015 Garrity Perception Survey to gain a better understanding of the New Mexico real estate market from a consumer perspective.
The survey responses give us a baseline that we will use to measure the success of GAAR's new consumer outreach initiatives. More consumer outreach is not only required by NAR, but is very warranted based on this initial study. Overall, the results show that we need to better educate the public on the value of REALTORS®.
The areas we studied were:
Overall impression of the real estate industry
Level of trust in REALTORS®
Whether or not they used a REALTOR® in their last transaction
Plans on buying or selling a home in the next year
What attributes are important in choosing a REALTOR®
The results show that, while 41% of Albuquerque-metro area consumers have a favorable view of the real estate industry, 39% have either a neutral or have no opinion of it. We fared slightly better than New Mexico as a whole, which has only a 27% favorability rating with 43% of the population neutral.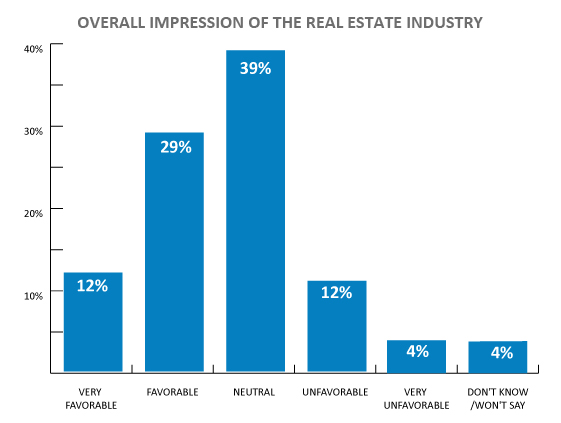 When we dig a little deeper into the responses, we learn that a majority of consumers (52%) value honesty, integrity and trustworthiness the most when choosing a REALTOR®. Combined, 23% valued knowledge of the market in general and knowledge of a particular neighborhood specifically. 16% valued reputation the most. While fees, experience, referrals and track records may be important, the survey shows they are typically not the top factor for most consumers in hiring a REALTOR®.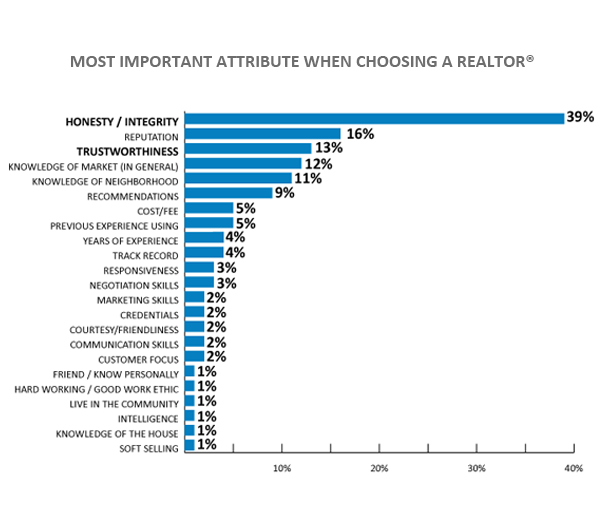 Because only 27% of Albuquerque-metro residents really trust REALTORS® and a whopping 48% are neutral, we know we need to improve our perception of being honest and trustworthy professionals. Member marketing efforts, supplemented by GAAR's advertising and public relations campaigns (that leverage our subscription to the Code of Ethics), can help increase our favorability rating with consumers.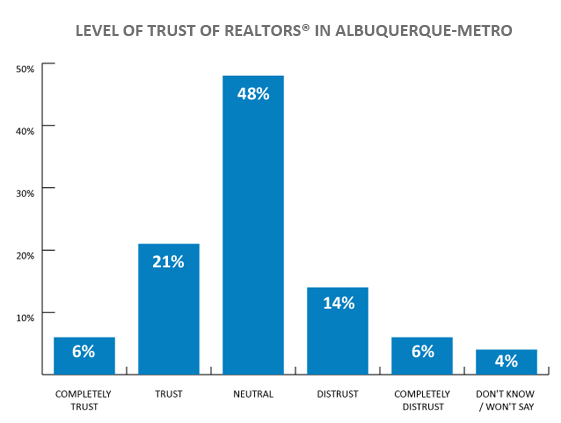 Since 33% of Albuquerque-metro residents responded that they did not use a REALTOR® in their last transaction, home buyers and sellers either did not realize they were using a REALTOR® or, less likely, they were FSBO transactions. It is highly likely that over 80% used a REALTOR®, so GAAR will need to do more research to find out why so many home buyers and sellers feel they did not.
In line with previous local and national polls, 7% of the population plans to sell a home and 8% plan to buy over the next 12 months. Our seller market leans older (50+), male, and Anglo/Caucasian. Home buyers are more likely to be under 50 and less likely to be Ango/Caucasian, which aligns with Albuquerque's ethnicity demographic shift and the national home-buying trend. Not surprisingly, both sellers and buyers tend to have a higher level of income and education.
The take-away from this study: NAR Core Standards aside, the Greater Albuquerque Association of REALTORS® and our members need to do more to educate the public to build trust and to increase their understanding in the important role REALTORS® play in Albuquerque-metro's home ownership story.