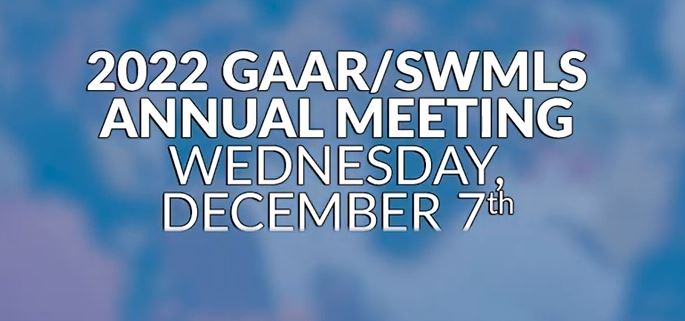 All REALTOR® Members of GAAR and SWMLS are encouraged to attend the 2022 Annual Meeting. This year, we're pleased to welcome National Speaker Ifoma Pierre as our keynote and instructor!
2022 GAAR/SWMLS Annual Meeting
Wednesday, December 7th
8:00 am - 1:15 pm (Annual Meeting & Lunch) **DEADLINE Is December 2**
1:30 pm - 3:30 pm (Agent Extinct with Ifoma Pierre - 2CE)
FREE for REALTOR® Members
Marriott Pyramid North
5151 San Francisco Rd NE
At the meeting, Members will also have one last chance to donate to the REALTOR® Fund for a chance to win 2 Roundtrip Airline Tickets. Drawing will be held during the Annual Meeting lunch.
---
To attend both AM and PM sessions, you will need to register separately below.
---
2022 Annual Meeting & Lunch (AM Session)
8:00 am - 1:15 pm
Continental Breakfast
Welcome, Year in Review, and State of the Association
GAAR Business Meeting/Directors Installation
SWMLS Business Meeting/SWMLS Bylaws Vote*/Directors Installation
Keynote featuring Ifoma Pierre
Giving Lunch
*ACCESS the SWMLS Proposed Bylaws Changes
Please register here for the morning session and lunch.
**DEADLINE FOR THIS SESSION IS FRIDAY, DECEMBER 2ND**

---
(VIDEO: GAAR Annual Meeting from Ifoma Pierre on Vimeo.)
"Agent Extinct: How to Survive the Ever-Changing Real Estate Market" (PM Session)
1:30 pm - 3:30 pm (following the Annual Meeting Lunch at the Marriott Pyramid North)
2 CE (Elective)
Instructor: Ifoma Pierre
Free to GAAR REALTOR® / $60 Non-GAAR REALTOR®
The tools the public needs keep changing. This past year has been emotionally stressful for the public and the practitioner. Many agents are operating on fumes. In addition, real estate is experiencing a lack of inventory and an information explosion, in real-time. Most agents are just working IN their business, instead of ON their business.
Register for "Agent Extinct: How to Survive the Ever-Changing Real Estate Market"
Register Now will take you to your Member Portal.
In your Member Portal go to Upcoming Courses -> All --> December 7 (on the calendar)

Please Note:
This event is an in-person event & will not be Live Streamed.
A recording of the State of the Association, Meeting, Installation, Keynote, and Agent Extinct will be available at a later date.
Ifoma Pierre has recently agreed to allow a recording of his Keynote & Agent Extinct course to be recorded and available for 30 days.
---
2022 GAAR/SWMLS Annual Meeting
DIAMOND SPONSOR