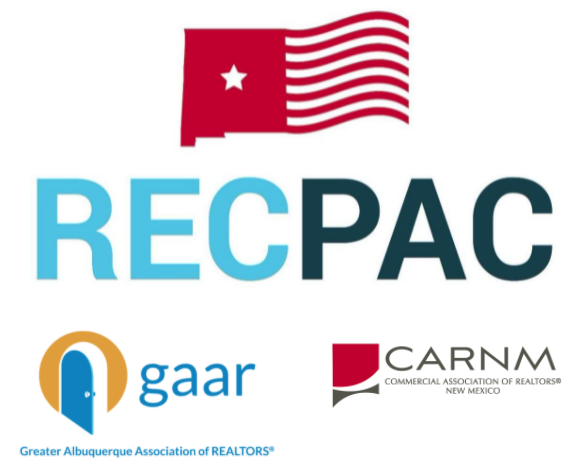 RECPAC Members were emailed notice of the proposed RECPAC Bylaws changes on Friday, November 11th, 2022 as follows:
In accordance with the Bylaws of the Real Estate Community Political Action Committee (RECPAC), this will serve as official notice within the specified 30 days to inform RECPAC Members of proposed changes to the Bylaws of RECPAC.

Any GAAR or CARNM Member who contributed to RECPAC in 2022 (the option to contribute $15.00 was included with the 2022 GAAR Member Dues billing) is considered active and eligible to vote. The vote will be administered electronically during the 2022 RECPAC Annual Meeting.

You have the option to attend in-person or via ZOOM.
If you have any questions regarding the RECPAC Annual Meeting, please contact Laura Harris at laurah@gaar.com or 505-724-3461.
VIEW RECPAC Bylaw Changes with Rationale
2022 RECPAC Annual Meeting
Tuesday, December 13th
3:00 pm - 4:00 pm

How to Attend
In-person at 1645 University Blvd NE (GAAR Property, N. of the Office)
REGISTER TO ATTEND IN-PERSON
OR
REGISTER TO ATTEND VIA ZOOM
https://gaar.zoom.us/meeting/register/tZIlcOysrzMpHtARV7aa16dBza1Tf2FSOf7_
After registering, you will receive a confirmation about joining the meeting
About RECPAC
The RECPAC Board of Trustees is a local committee comprised of 9 Trustees; 6 from GAAR and 3 from the Commercial Association of REALTORS® New Mexico (CARNM) who address state and local policy issues that affect the Central New Mexico Real Estate Industry and communities.
RECPAC Trustees are charged with reviewing the performance of state and local policymakers to assure that RECPAC contributions are invested in REALTOR® Champions. Also, it is the responsibility of RECPAC Trustees to follow state and local issues important to the Real Estate Industry and communicate our position to policymakers in order to influence outcomes in favor of our industry and ultimately our clients.