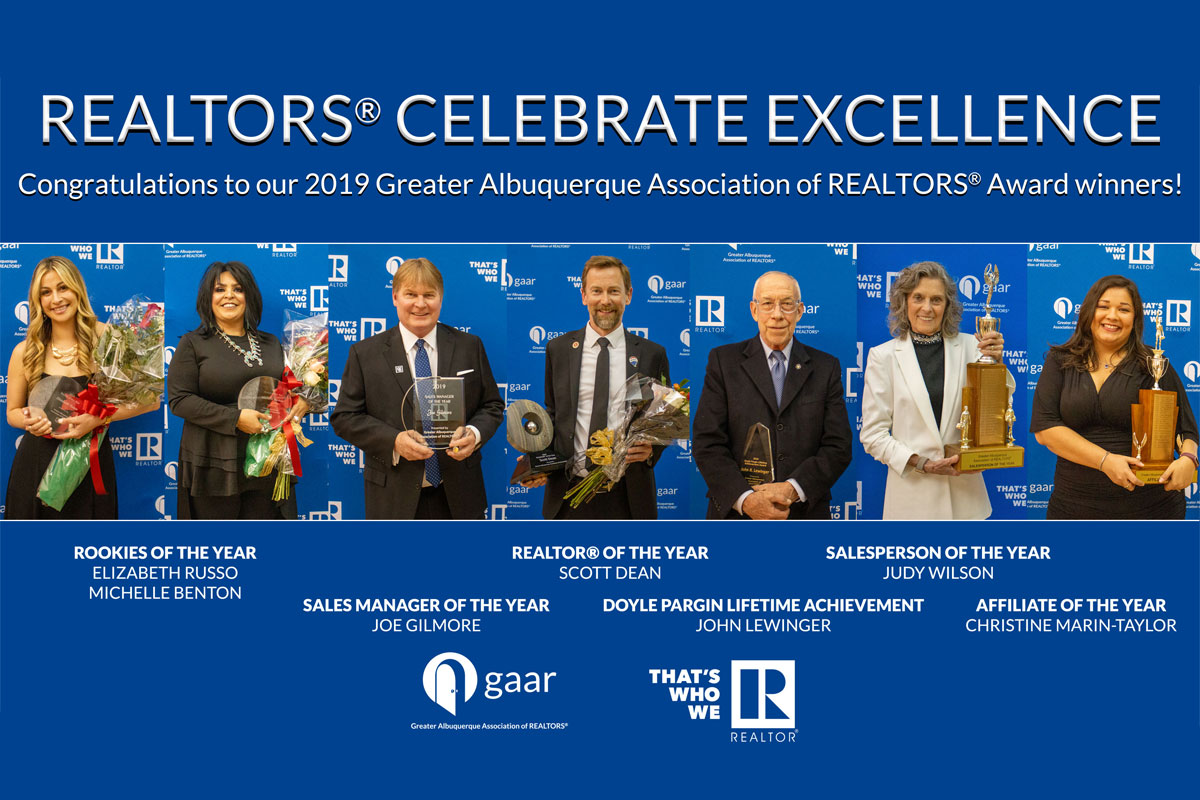 On Friday, March 6th, more than 350 REALTORS® and Affiliates gathered at the Albuquerque Museum to honor excellence in the real estate industry, celebrate the successes of 2019, and raise money for local non-profit charities.
At the beginning of the new year, members nominated colleagues who exemplify professionalism in the local real estate industry. Nominees are chosen by previous category winners based on their 2019 contributions to the industry and community, as well as production achievements.
This year's honorees of the 99th GAAR Awards Gala are:
2019 REALTOR® of the Year: Scott Dean, RE/MAX SELECT
One of the highest honors a member can receive during their real estate career, the REALTOR® of the Year Award acknowledges a member who has actively contributed to the success of both the REALTOR® organization and the industry, as well as exemplifies professionalism while serving the Greater Albuquerque community.
2019 Doyle Pargin Lifetime Achievement Award: John Lewinger, Colliers International
The Doyle Pargin Lifetime Achievement Award recognizes longevity and achievement in the profession, service to the industry and model professionalism.
2019 Sales Manager of the Year: Joe Gilmore, Coldwell Banker Legacy
2019 Salesperson of the Year: Judy Wilson, The Home Team of EXP Realty
2019 Rookies of the Year: Michelle Benton, Coldwell Banker Legacy and Elizabeth Russo, Coldwell Banker Legacy
2019 GAAR Affiliate of the Year: Christine Marin-Taylor, Nusenda Credit Union
2019 GAAR/Security Escrow Scholarship Winners: Logan Bruere and Kelly Ruiz
Each recipient receives a $1,000 scholarship to help pay for tuition, books and licensing towards a career in real estate. A recipient must be a family member of a REALTOR®.
Proceeds from the Awards Gala benefit the REALTOR® Fund, an endowment established by GAAR members to demonstrate their ongoing pledge to honor their responsibilities to the community and to express gratitude for a successful real estate industry. This sustainable trust fund managed by the Albuquerque Community Foundation allows GAAR to distribute more than $50,000 each year to local charities.
In 2019, GAAR distributed $45,000 to the Rio Grande Food Project, Saranam, and Serenity Mesa. Additionally, another $5,000 was distributed to Feed NM Kids, LifeRoots NM, Rio Grande Valley Blue Star Mothers, African American Cultural Center, and The Harbour Project.
If your production last year was $2 million or more and you'd like a Production Certificate, please email awards@gaar.com