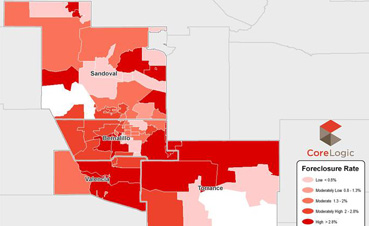 Damon Scott
Albuquerque Business First
Foreclosure rates in the Albuquerque area decreased slightly in April, but are still above the national average.
According to a CoreLogic report released Thursday, the rate of the metro area's foreclosures among outstanding mortgage loans were 2.24 percent in April, a decrease of 0.20 percentage points compared to April 2014. The national foreclosure rate was 1.33 percent in April 2015.
CoreLogic data shows the Albuquerque area's foreclosure rates have hovered below 3 percent for at least the past 16 months. Click here to read more.