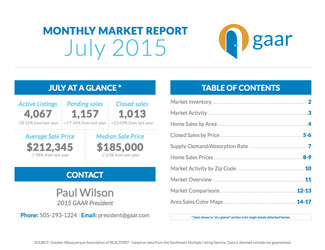 The number of homes sold throughout the Albuquerque region continues to break records going all the way back to 2007.
July finished the month with 1,013 detached sales, a 23.1% jump from July 2014 and an increase of 3.0% from last month. The number of pending sales for the month also rose 17.3% compared to the same month last year.
The Greater Albuquerque market added 1,618 detached homes for sale in the month of July. This is down slightly from last month's addition of 1,629 new home listings. At 4,067 units for sale, the inventory level is still 18.12% lower when compared to July last year.
Due to a spike in the number of detached homes sold in the middle price ranges of $120,000 to $249,000, there was an overall drop in the median and average sales price for the month of July. The median sale price of detached homes was $185,000, a 2.6% decrease from July 2014. The average sales price for July was $212,345.
"2015 continues to be an exceptional year for the number of homes sold in the Albuquerque market," said Paul Wilson, 2015 President of the Greater Albuquerque Association of REALTORS®. "The surge in the number of sales in some neighborhoods – particularly in Rio Rancho and on the Westside – are driving this month's growth in sales activity for the whole market," he said. "The continued improvements to the market should be encouraging to all sellers now entering the market."
Click here to download the full Market Statistics Report for July 2015.