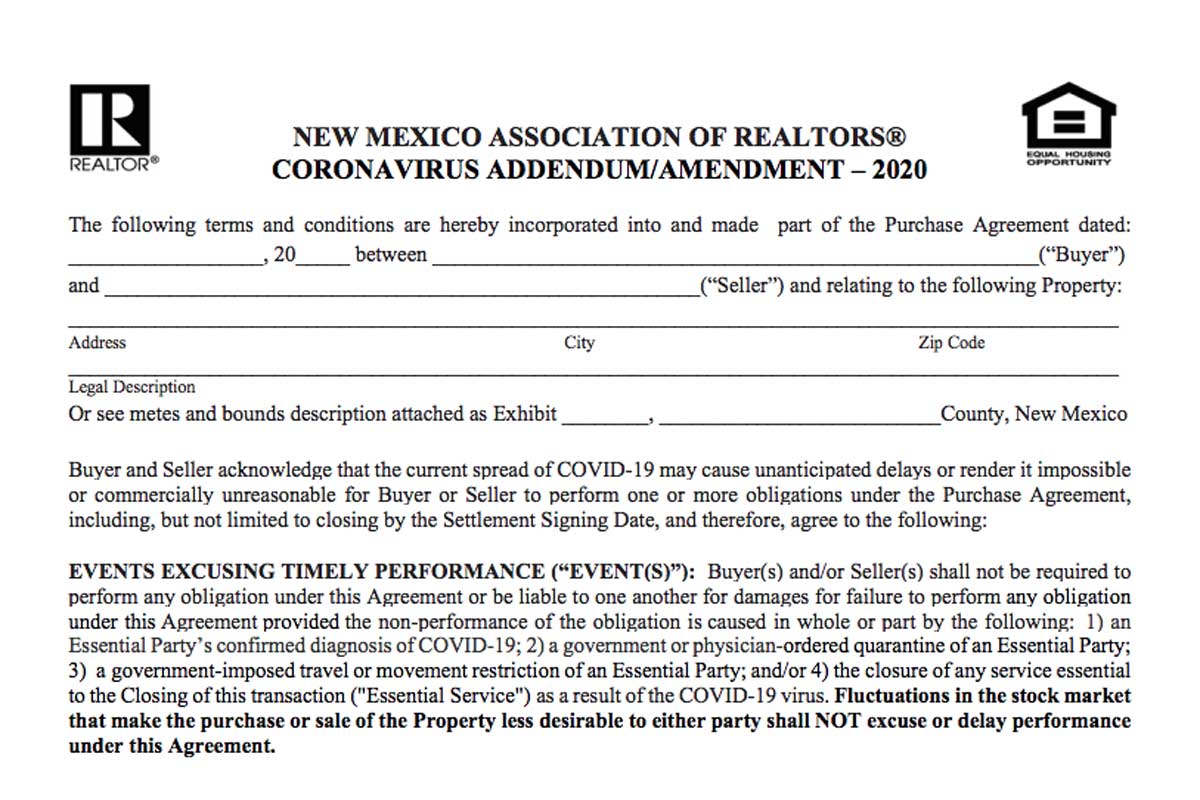 NMAR General Counsel, Ashley Strauss-Martin, provides legal information on how to deal with transactions among the Covid-19 pandemic, as well as an Addendum/Amendment (Form 1500) that you can use now with your transactions.
The Coronavirus and Force Majeure
New Mexico law does not have a general definition of force majeure and defers to the exact wording in the contract at issue to determine if force majeure would apply. NMAR contracts contain a force majeure provision, which states:
Neither party shall be liable for delay or failure to perform any obligation under this Agreement if the delay or failure is caused by any circumstance beyond their reasonable control, including but not limited to acts of God, war, civil unrest or industrial action.
New Mexico law does define an "Act of God" as "an unusual, extraordinary, sudden and unexpected manifestation of the forces of nature for which no human is responsible", which is generally meant to include occurrences such as hurricanes, floods, and tornadoes; this does not generally include an epidemic or pandemic.
There may be some events related to the Coronavirus that fall into the force majeure category, but generally speaking, unless and until the banking system, the recorder's offices and title companies are shut down, performance is possible. Regardless, brokers are not licensed or qualified to provide that advice. Buyers and sellers should, therefore, seek independent legal counsel to discuss their options.
Coronavirus Addendum/Amendment
Because NMAR Purchase Agreements do not specifically address pandemics, such as the Coronavirus, the attached Addendum may be used to supplement an NMAR Purchase Agreement. While parties may require that this Addendum/Amendment be made part of the contract prior to entering into a contract, those parties already under contract have the option to use this Addendum/Amendment, but neither party is required to enter into this Addendum/Amendment after the formation of the contract.
The NMAR Form 1500, "CORONAVIRUS ADDENDUM/AMENDMENT – 2020" is available now. Click on the link below to download and print. The Addendum/Amendment will be available soon in your Forms Library.
CORONAVIRUS ADDENDUM/AMENDMENT – 2020 (NMAR Form 1500)
Source: "New Mexico Association of REALTORS®"