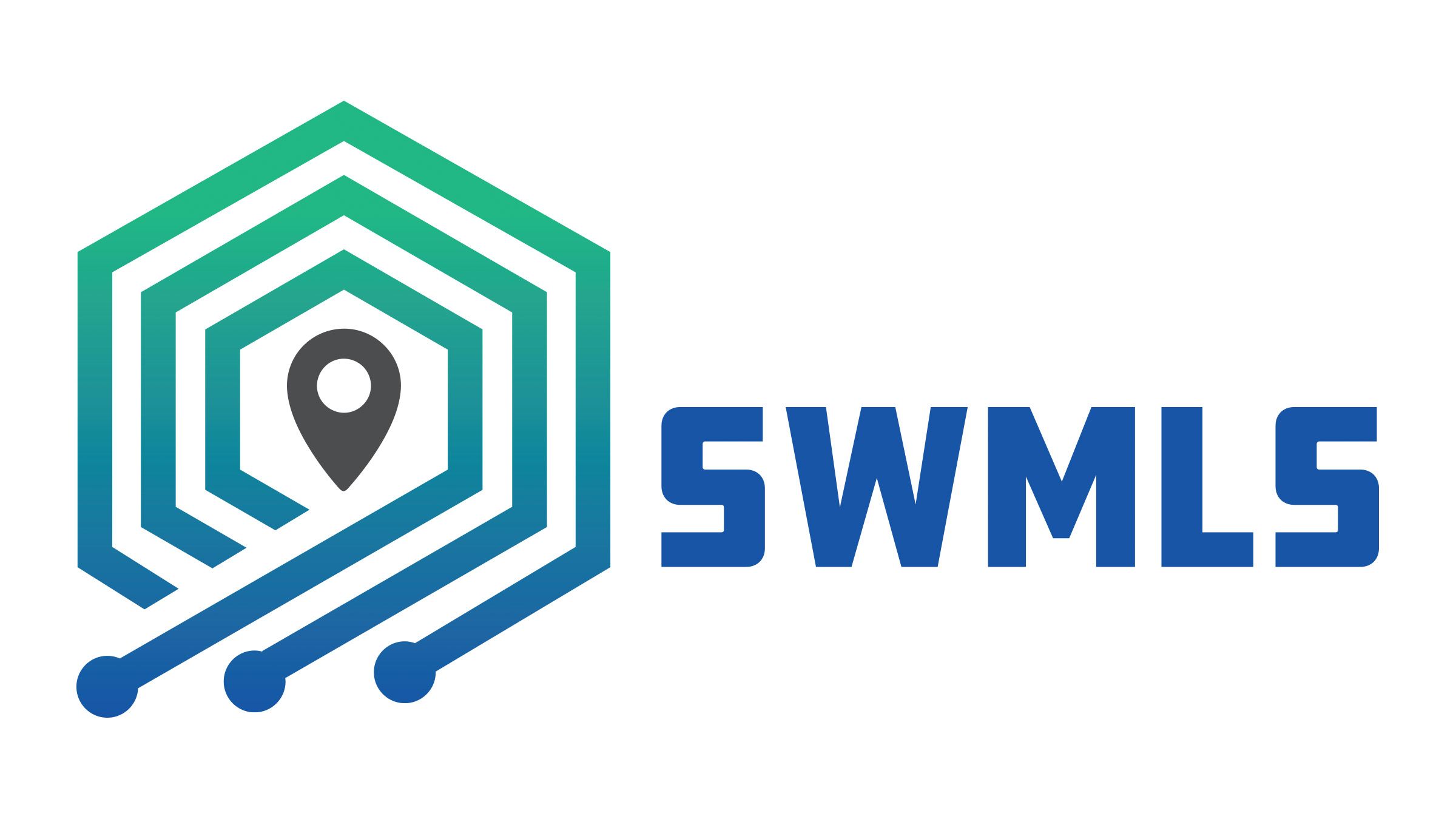 How the Clear Cooperation Policy will affect your Listings
Effective Friday, May 1st, 2020, SWMLS members who list a residential property, must submit it to the MLS within one (1) business day of marketing it to the public.

Effective May 22, 2020, failure to comply could result in fines ranging from $50 to $400.

Public marketing is any promotion or advertisement such as:
yard signs, flyers, or other printed materials
brokerage website displays (including IDX and VOW)
digital advertising on a public-facing site
communications with other brokerages
verbal communication to anyone other than the homeowners
social media
---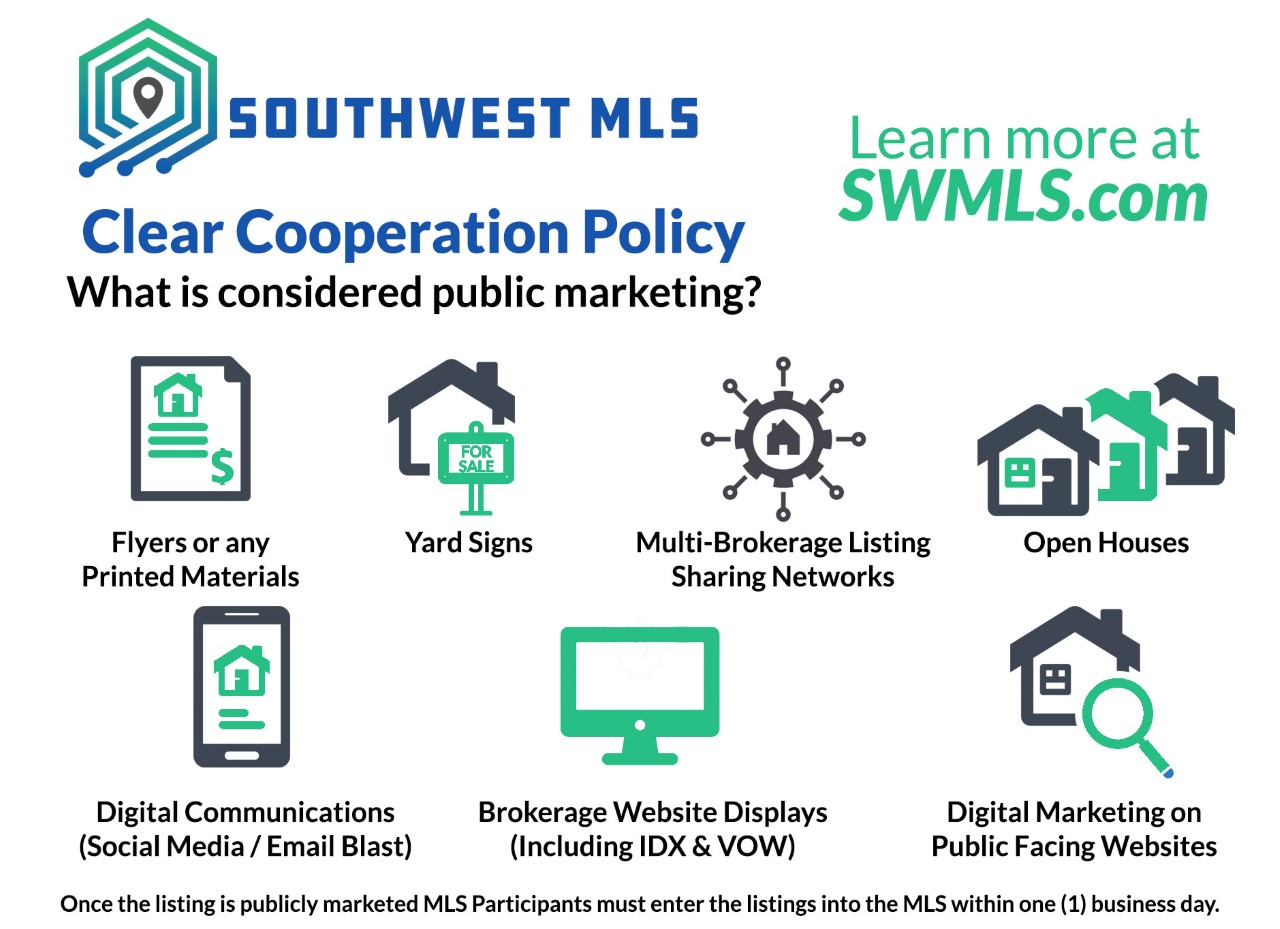 ---
Window to the Law: Understanding the MLS Clear Cooperation Policy
---
Clear Cooperation FAQ's
Why is this a new policy?
NAR has mandated that all MLSs adopt the Clear Cooperation Policy. This policy is intended to reinforce a transparent marketplace to ensure home sellers benefit from the most market exposure and home buyers have access to the most up-to-date property information.

What Property Types does this policy affect? Residential, Residential Lots, Residential Income less than 4 units. Not applicable Commercial, or Rentals. New Construction developments are optional.
What if I am listing my own home?
When a SWMLS Subscriber is representing themself on their own home they must also submit the listing to the MLS within 1 business day of marketing the property.
What does 1 "business day" mean? Business days exclude Saturdays, Sundays and holidays. The NAR MLS Advisory Board specifically revised the policy's timeframe due to concerns with enforcement to provide greater flexibility for days when submitting the listing to the service could be a challenge. For consistency among all REALTOR® Association MLSs, the approved timeframe is 1 business day.; "holidays" include all recognized federal and state holidays.
Is Coming Soon going away?
No. The Coming Soon status at SWMLS will continue to be available. On July 17, 2020 SWMLS will no longer permit showings to be conducted on any Coming Soon listing.

Which MLS Statuses can be used to comply with this policy?
Active and Coming Soon. Each of these statuses will make the listing available to all SWMLS Participants. Withdrawn status is used to temporally pause showings.
What is an Office Exclusive?
Office Exclusives are not included in this policy. Office Exclusive listings are an important option for sellers concerned about privacy and wide exposure that their property is for sale. In an Office Exclusive listing, direct promotion of the listing between the brokers and licensees affiliated with the listing brokerage, and one-to-one promotion between these licensees and their clients and customers, is not considered public advertising. If Office Exclusive listings are displayed, advertised, or promoted to the general public or brokers outside the listing brokerage, those listings must also be submitted to the MLS for cooperation. If your brokerage is part of a franchise or has multiple offices in the SWMLS market area there could be restrictions on which offices an Office Exclusive can be shared with. For clarifictaion about Office Exclusive as it applies to your own brokerage please contact the SWMLS Manager at mls@gaar.com.

What does marketed to the public mean?
A home promoted or displayed to the public could be in the form of a For Sale Sign/Coming Soon sign in front of the home, promoting the property on social media, including it on a flyer, or even mentioning it to someone you know that is not the homeowner. Basically, any type of communication that does not provide access to all potential buyers.

What if I promote the property at a private networking group?
Networks that include brokers at different offices is considered a form of public advertising. Listings shared in multi-brokerage networks by participants must be submitted to the MLS for cooperation by using Active, Coming Soon, or Withdrawn Status.

Can a Seller opt out the policy requirements? Yes. The seller still has the ability to exclude their property from the MLS; however, no marketing of the property can be done, and a seller instruction form must be signed. If any marketing does take place, then the property must be submitted in the MLS within (1) one business day.
If you would like SWMLS to speak at your next office meeting to explain the new policy, contact jeff@gaar.com.
---
Resources