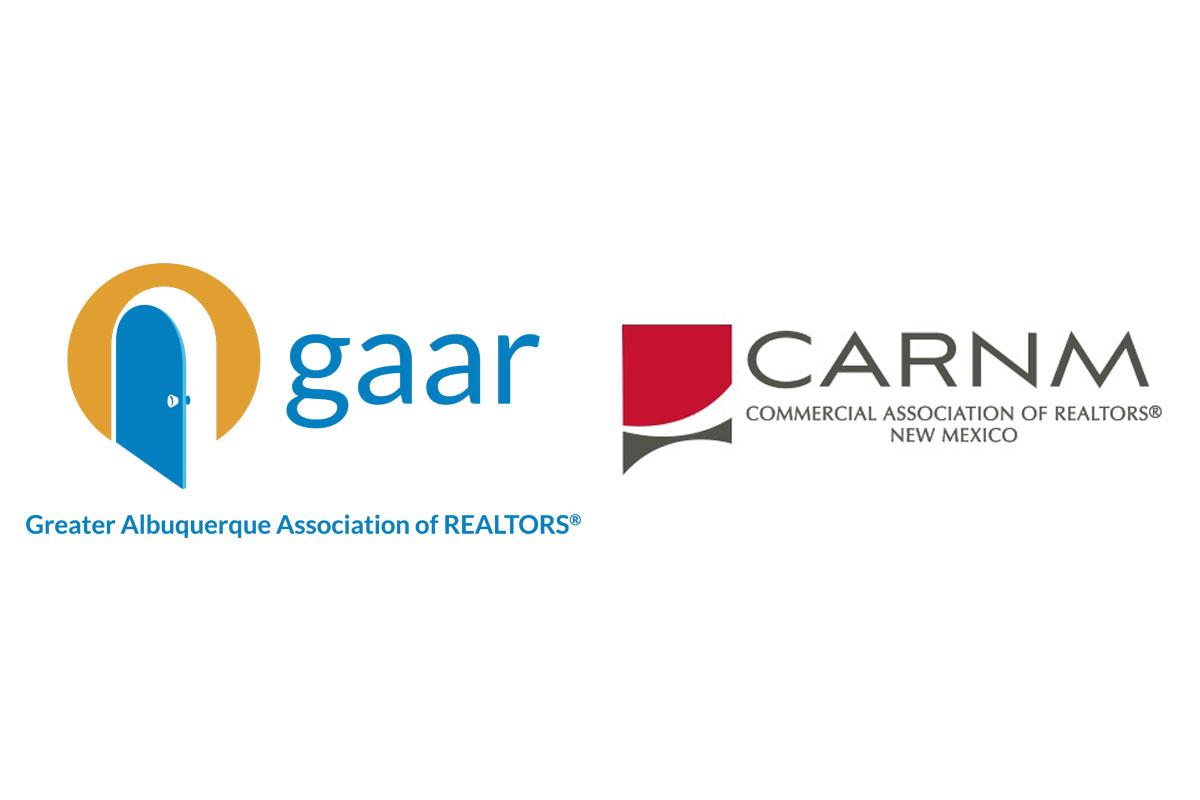 FOR IMMEDIATE RELEASE
Contacts:
John Lopez, GAAR President Kent Cravens, GAAR Executive Vice President
505-991-3386, president@gaar.com 505-724-3481, kent@gaar.com
Sean McMullan, CARNM President Kendra Yevoli, CARNM Executive Vice President
505-259-6223, sean@mcmullanrealestate.com 505-503-7809, kendra@carnm.com
GAAR & CARNM Urge Commissioners to Consider Amendments
Albuquerque, NM (August 16, 2019) – On August 20, 2019 the Bernalillo County Commission will be voting on an ordinance mandating employers to provide paid time off to employees within Bernalillo County. Members of the Greater Albuquerque Association of REALTORS® (GAAR) and Commercial Association of REALTORS® New Mexico (CARNM) have reviewed this proposal and have determined that, as written, the ordinance will be detrimental to existing small businesses and curtail future business growth, thus inhibiting many consumers from entering the housing market, and even driving businesses to other business locations outside the county, creating a loss of jobs in the area.
"We support an environment that preserves jobs and fosters continued economic growth, this effort is viewed as being counterproductive as written. As a community, we must all work together to promote a positive business climate to benefit consumers so they can attain homeownership and build personal wealth for their families," said John Lopez, President, Greater Albuquerque Association of REALTORS®.
There are many issues with the current version, we have consulted with human resource experts and legal counsel to outline a few of the most concerning issues. Our goal is that Bernalillo County Commissioners would make amendments with this advice and counsel.
"We feel that employment policies such as sick leave and vacation should be negotiated between an employer and employee. Any government mandates to this process could lead to dire consequences for our small businesses and local economy," said Sean McMullan, President of the Commercial Association of REALTORS® New Mexico.
Summary of Issues
Proposed Ordinance
# # #
About GAAR
The Greater Albuquerque Association of REALTORS® (GAAR) is the largest local professional trade association in Central New Mexico with nearly 3,900 members pledged to a strict Code of Ethics and Standards of Practice. Established in 1921, GAAR is the Voice for Real Estate for the Greater Albuquerque Area and the trusted source for accurate real estate market data and trends.
About CARNM
The Commercial Association of REALTORS® New Mexico holds a 4-star accreditation with the National Association of REALTORS®. The Commercial Services Accreditation is a prestigious recognition program, acknowledging CARNM's commitment to providing commercial services, engaging commercial members, and developing CARNM as a voice and resource in the state of New Mexico.
REALTOR® is a registered collective membership mark that may be used only by real estate professionals who are members of the NATIONAL ASSOCIATION OF REALTORS® and subscribe to its strict Code of Ethics.
For media assistance, please contact Laura Harris at 505-724-3461 or laurah@gaar.com.