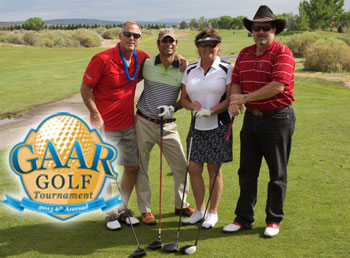 As you know, all proceeds from our tournament go to charity. Through the Annual Charity Golf Tournament we raised $26,700 for the REALTOR® Fund and the APS Title 1 Homeless Project – a charity that helps provide basic necessities and education to Albuquerque's 5,000+ homeless students.
While building our sustainable endowment, the REALTOR® Fund to $1 M, GAAR members, affiliates, and partners continue to fundraise for and donate to charities like APS Title 1 each year. Since 2009, our players and sponsors have raised over $85,000 for this very worthy charity. We have also donated to other local non-profits including the Children's Grief Center, New Day Youth & Family Services and El Ranchito de los Niños.
If you would to be part of the Golf Committee for 2016, we are immediately seeking highly motivated individuals who would like to volunteer for this fun, fast-paced committee. Applicants must be prepared to begin work within the next month.
The purpose of the committee is to coordinate operations and sponsorships for the GAAR Annual Charity Golf Tournament to raise funds for the REALTOR® Fund.
The golf committee consists of 10‐15 members, which includes a Chair and Vice Chair and the term is one year. No previous golf or committee experience necessary.
Please contact getinvolved@gaar.com if you are interested.
****
Related links
The REALTOR® Fund: Give Back To The Community…And Possibly Win A Trip For 2
Your Time And Talent Is Needed – VOLUNTEER For A Committee Or Program Today!