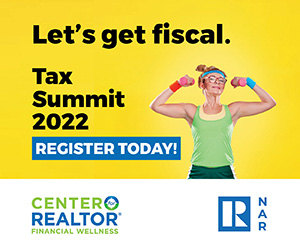 Get fiscal at the NAR Tax Summit 2022. Learn about new governance regulations and receive tips on how to improve your personal wealth by spotting opportunities in your tax return, what to do if the IRS comes knocking, and more. Register to attend NAR's Center for Financial Wellness Tax Summit four-part series virtual event. The NAR Member price for the series is $50.
Tax Considerations for the Newly Self-Employed
Wednesday, February 2 at 12:00-1:00 p.m. MT
What to Do If You've Got IRS Trouble
Wednesday, February 9 at 12:00-1:00 p.m. MT
2022 Small Business Advanced Tax Update
Wednesday, February 16 at 12:00-1:00 p.m. MT
Your Financial Golden Years: Taxes & Retirement
Wednesday, February 23 at 12:00-1:00 p.m. MT
By registering, you'll learn money-saving strategies to set yourself up for success come tax time and as you plan for the future. Space is limited!