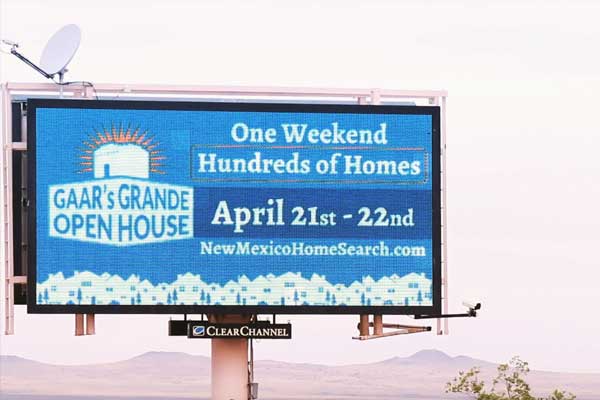 We're off to a great start, as of Wednesday morning there were 388 open houses listed for the weekend! Enter your listings now and let's boost that even higher.
Grande Open House Weekend
Date: Saturday, April 27th and Sunday, April 28th
Location: Greater Albuquerque and surrounding areas
How to Participate: Enter your listings into Flexmls by Friday, April 26th and they will auto-populate on NewMexicoHomeSearch.com that consumers have access to. They will be able to search, save and share listings with their REALTOR®.
Here is your checklist for the Open House weekend:
Enter your listings into Flexmls by Friday, April 26th to ensure they appear on NewMexicoHomeSearch.com.
Claim your profile on New Mexico Home Search (see the video below)
Pick up Open House signs, directional signs, balloons, and marketing material starting on Monday, April 22nd through Friday, April 26th at the GAAR REALTOR® Building.
If you kept last year's Open House signs, please reuse them!
Listen and watch for media in the weeks leading up to the big weekend!
The GAAR Grande Open House Weekend will be promoted in the following media:
Open House Signage + NEW Directional Signs
Clear Channel Outdoor Boards (3 freeway locations)
New Mexico Living on Fox TV (airs Friday, April 26th)
Homestyle in the Albuquerque Journal
New Mexico Magazine
SuCasa Magazine
Traffic & Weather Sponsorships (9 radio stations)
Watch video on how to claim your REALTOR® profile on New Mexico Home Search:
Download a flyer or for more information, please contact julian@gaar.com.