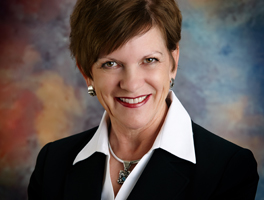 Janice McCrary, Executive Vice President for GAAR graduates form New Mexico's leadership class.
Mike English
Albuquerque Business First
A group of emerging business leaders has graduated from a training program designed to fortify the ranks of New Mexico's leadership class.
Leadership New Mexico announced a class of 42 graduates of its 2014-2015 Leadership New Mexico Core Program. The series of classes is designed to enhance leadership skills and deepen knowledge of New Mexico's most pressing problems.
Members of the graduating class include Scott Atwater, vice president for Bridgers and Paxton Consulting Engineers Inc.; Earl Carrasco, chief of retail operations for Laguna Development Corporation; Renee Ennis, revenue cycle management for Presbyterian Healthcare Services; Kendal Giles, principal/vice president for Dekker/Perich/Sabatini; Sara Límon, COO for Delta Dental Plan of New Mexico; Phil Lucey, executive director for New Mexico Press Association; Janice McCrary, executive vice president for Greater Albuquerque Association of Realtors; Click here to read more...