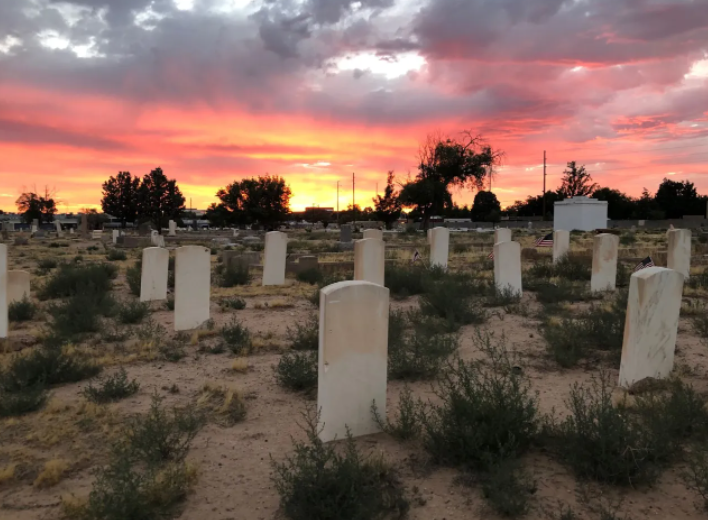 The Historic Fairview Cemetery is the oldest public cemetery in Albuquerque where many of the early founders of Albuquerque lie including Margaret Medler, the Association's first female president.

In 2021, in honor of our Centennial, GAAR became involved with the Historic Fairview Cemetery on Make a Difference Day, an annual day of giving back to the community. More than 50 REALTOR®, Affiliate Members, and their families showed up with hoes, shovels, and rakes ready to work. Each team tackled a section of the 17 1/2 acre cemetery.
Weed pulling and tumbleweed removal is an ongoing project! Gather your office, friends, and family to join in on any of these upcoming events:
Volunteer
First Saturday Clean-up
On the first Saturday of each month, volunteers gather to help clean the cemetery grounds. Bring tools such as shovels, rakes, weed whackers, and hoes. Park on the Memorial Park side of Fairview at 700 Yale Blvd SE.
Saturday, May 21st
This month there is an additional day to volunteer. On Saturday, May 21st at 9:00 am, Fairview will partner with VFW Post 10763 to place American flags on veterans' graves. Additional cleaning and mulching is also needed that day.
Memorial Day Event
On Monday, May 30th from 9:00 am to 1:00 pm, learn about Albuquerque history through the lives of Historic Fairview Cemetery's permanent residents. Speakers will be stationed throughout the cemetery and visitors can visit and learn at their own pace.
A donation of $20 per person is requested to help maintain the cemetery. The Historic Fairview Cemetery is accessed through the main entrance to Fairview Memorial Park, 700 Yale Blvd. SE. Sign up in advance through the secure PayPal account.
Buy a T-Shirt
Support the Historic Fairview Cemetery by purchasing a100% cotton T-shirts! The black t-shirts have artwork of the distinctive gates of the cemetery. At $20 each, your contribution provides funds to restore the cemetery grounds and share the history of Albuquerque. Order online and pick up your shirt at the next first Saturday clean up or by making other arrangements.