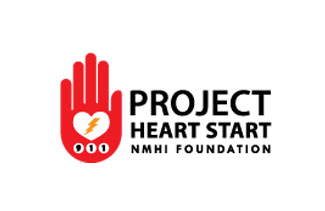 REALTOR® Safety Month is coming up in September.
In preparation for our safety training class, GAAR is offering a free "Train the Trainer" class to teach GAAR staff and members how to instruct students on compression-only CPR (COCPR).
We need volunteers to help teach the COCPR class to other REALTORS® during Safety Month. Instead of hiring a Project Heart Start (PHS) instructor, we are offering this training through Project Heart Start to GAAR Staff and Members that have previous First Aid/AED/CPR training (preferably with a medical or teaching background, like EMT, Firefighter, Military, Police, Nurse, Teacher, Lifeguard, etc.), a desire to teach, and good communication skills.
We will be offering the PHS "Train the Trainer" class on August 24th from 1:30 pm to 3:30 pm. Once you're certified by PHS, you will be able to provide COCPR to staff, co-workers, family members and other groups.
What is Project Heart Start?
Project Heart Start (PHS) is dedicated to training all able individuals to perform compression-only CPR (COCPR) and to encourage and facilitate the placement and utilization of automated external defibrillators (AED).
A Project Heart Start training session lasts only about 40 minutes and is divided into watching a 12 minute video produced by KOAT and Dr. Barry Ramo, followed by a 15 minute skill session led by a trainer and a short demonstration of an AED (Automated External Defibrillator). It is a non-certification class. The participant will learn to
Assess a victim of Sudden Cardiac Arrest.
Call 911.
Correctly perform chest compressions.
Recognize the signs of a heart attack.
Save someone who is choking by performing the Heimlich maneuver (abdominal thrusts).
Use an AED.
At the end of the course people should remember to:
Call 911,
Perform 100 chest compression per minute hard and fast,
And use an AED if one is available.
Click on the video below to hear from GAAR REALTOR® Ed Jaworski and his wife Terry on the importance of knowing COCPR.
Compression-only or hands-only CPR has only two steps to remember:
(1) Calling 911 and (2) pushing on the center of the chest 100 times per minute, hard and fast, to the beat of the classic disco song "Stayin' Alive". Conventional CPR required checking for a pulse, opening the airway and initiating rescue breathing. These components are no longer needed and not part of the compression-only CPR.
Sudden Cardiac Arrest is a leading cause of death. Over 300,000 out-of-hospital cardiac arrests occur annually in the United States. Performing compression-only or hands-only CPR can greatly increase a victim's chance of survival. In the past when someone collapsed, CPR was performed less than 30% of the time. Now with the new CPR, bystanders are attempting CPR 70% of the time.
Click here to be sign up to be trained as a Compression-only or hands-only CPR instructor.