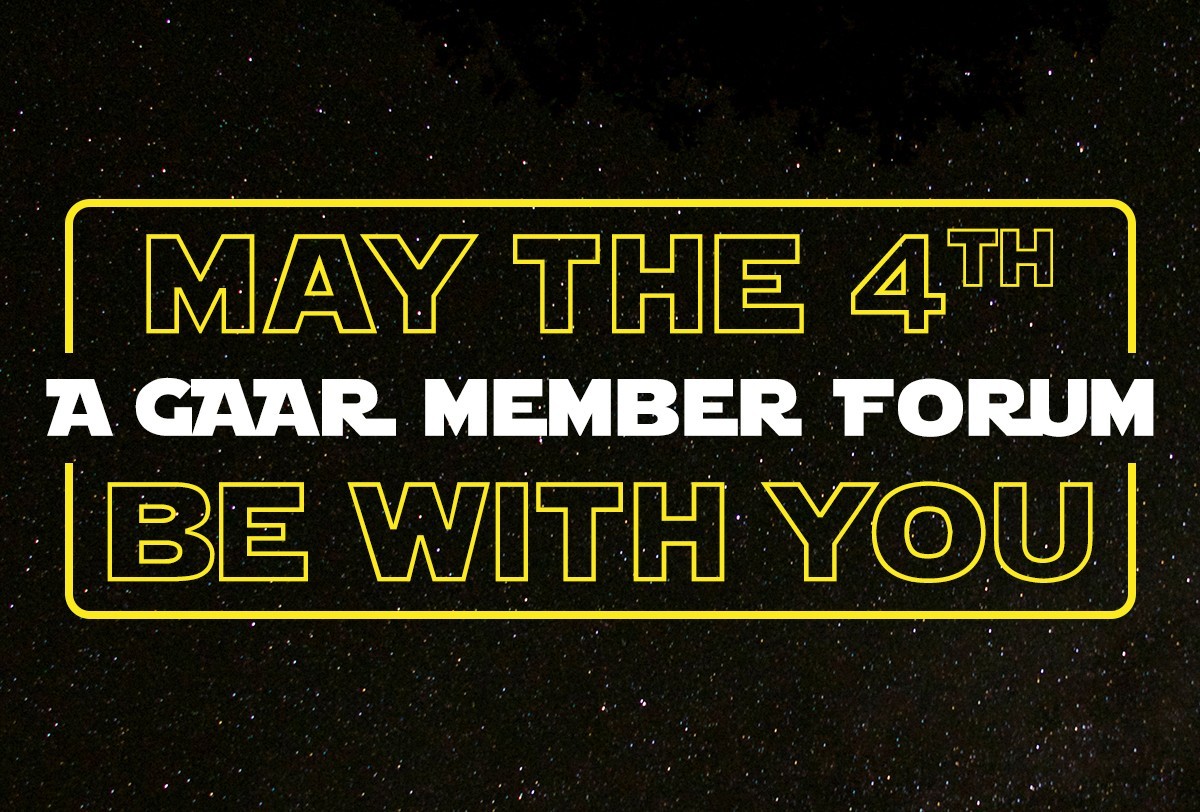 "May the 4th Be With You"...and also with your calendar
There's something for every REALTOR® in and around Albuquerque on the Wednesday, May 4th! We will be hosting a special Member Forum, RANM on the Road, and a FREE lunch at a REALTOR® Building (not) far, far away.
Member Forum: New Mexico True joins NewMexicoHomeSearch.com
GAAR's Web and Graphic Designer Heidi Sergel kicks off the morning with a presentation of your new statewide, consumer website NewMexicoHomeSearch.com, a partnership between GAAR and New Mexico True. The website presentation will be followed by the featured speaker, NM State Toursim Cabinet Secretary Rebecca Latham. Rebecca will present the latest campaigns and insight from New Mexico True – and certify more REALTORS® as New Mexico True Ambassadors!
GAAR REALTOR® Building
8:30 am - 10:30 am
FREE / Breakfast included
---
RANM on the ROAD
RANM on the ROAD returns to Albuquerque! RANM Leaders and staff will be visiting us to report on what is happening at RANM. Your RANM leadership will be discussing legislative updates, member benefits and RANM's plans for the future. RANM on the Road is free to members, but please register so we have a count for lunch.
Enjoy a free lunch and learn what is happening at RANM. We hope to see you during RANM on the Road! (Requires separate registration).
GAAR REALTOR® Building
10:30 am - 11:30 am
FREE
---
Lunch: Cookout with Rex's Burgers
Join us in the GAAR REALTOR® Building Courtyard for a fun cookout lunch courtesy of RANM!
GAAR REALTOR® Building
11:30 am - 1:00 pm
FREE
---
Golf Tournament: Last minute teams & sponsors
Last chance to sign up as a player or sponsor for the 7th Annual GAAR Charity Golf Tournament held on Friday, June 3rd at Santa Ana Golf Course. Click here for details.
---
The Women's Council of REALTORS® present: En Vogue – A Night of Beauty and Benevolance!
WCR's Annual Fashion Show and Fundraiser is also on May 4th at 4pm.
Please join your fellow REALTORS® for this fun-filled event. Come see the latest women's fashions from "Articles" and "Silk Road Connection" and mens' fashions from "Izzy Martin" and "Tom James" (with GAAR's male model, Nathan Brooks).
They also have two packages for discounted raffle tickets:
Large package is a value of $190 in raffle tickets for $100
Small package is a value of $80 in raffle tickets for $50
***All proceeds benefit the Assistance League of Albuquerque***
Details:
Marriott Pyramid
5151 San Francisco Rd NE
Albuquerque, New Mexico 87109
4:00pm – 7:00pm
Individually for $50
Packages of 10 tickets (table) for $350.