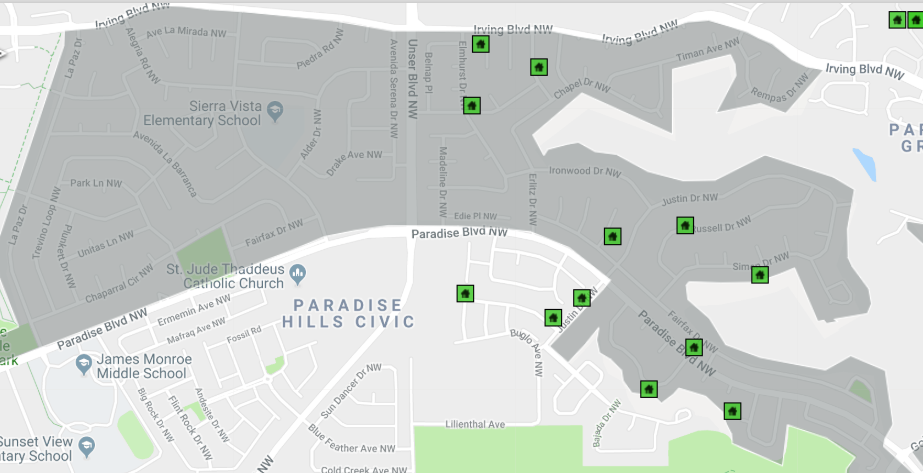 A new MLS Overlay shape is now available in FlexMLS. The new shape is called Paradise Hills Special Zoning and identifies the boundaries of this Special Zoning District. Knowing if a property for sale is within this district is helpful for REALTORS® and consumers buying, selling, or leasing property here.
The new Overlay shape for Paradise Hills Special Zoning District is considered a resource only. SWMLS and the Paradise Hills Special Zoning Commission should be held harmless from any discrepancies in the information provided. No guarantee of accuracy or completeness is made on any documents posted on this website, and no obligation to update the information is assumed. Users of this information are urged to independently verify it.
What is a Map Overlay shape?
Map Overlays are found in the FlexMLS system when doing a Map Search or clicking the Map Tab on any listing. Clicking on the drop-down list in the upper right corner of the Map Tab (or in the Map Search) to view available dynamic overlays, overlays supplied by FlexMLS, and overlays that you have created. A check mark indicates that the overlay is currently being displayed. Click the name again to hide the overlay. Hiding an overlay does not remove associated search criteria.
Example snapshot of the Map Overlay menu in FlexMLS: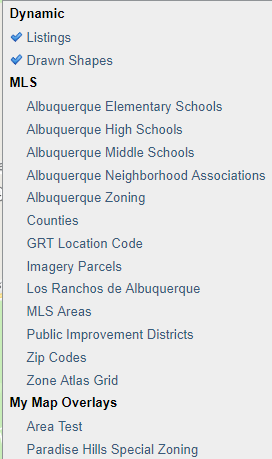 You can also create your own map overlays to outline neighborhoods, school districts, or any area you want to define. The new Paradise Hills Special Zoning overlay is actually found in your "My Map Overlays" section and not with the rest of the Overlays like Zone Atlas Grid or Albuquerque High Schools. You might need to scroll down through the Overlay list to find it.
This animation shows where you can select the new Paradise Hills Overlay in the MLS: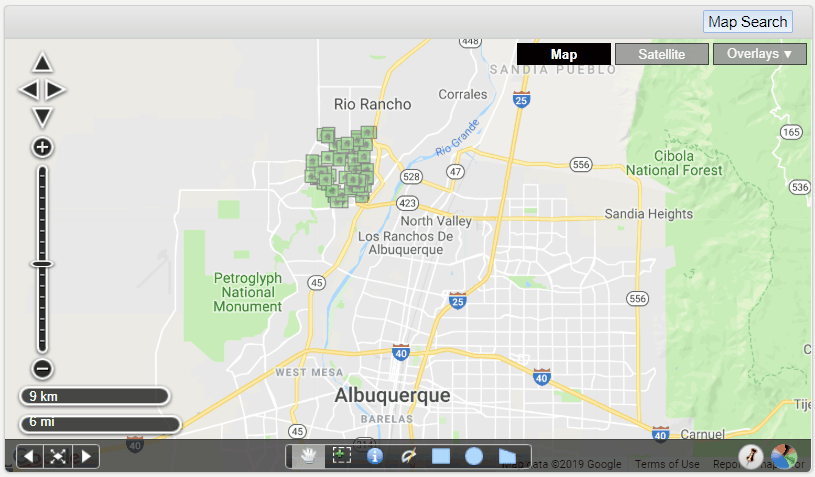 What is the Paradise Hills Special Zoning District?
The Paradise Hills Special Zoning District (PHSZD) was created by the state Legislature in 1978 through the Zoning Board Act and ratified in August 1982 and authorizes the Paradise Hills Zoning Commission to review and enforce all zoning matters within their jurisdiction. Bernalillo County does not enforce or review zoning regulations for areas within the Paradise Hills Zoning District.
The regulations and restrictions of Paradise Hills Special Zoning District Comprehensive Ordinance are designed to lessen congestion in the streets and public ways; to secure safety from fire, panic, and other dangers; to promote health and morals; to provide adequate light and air; to prevent overcrowding of land; to avoid undue concentration of population; to facilitate the adequate provisions for transportation, water, sewage, schools, parks, and other public requirements; to conserve the value of buildings and lands; and to encourage the most appropriate use of land throughout the Paradise Hills Special Zoning District areas of Bernalillo County. More information can be found on their website.
If you have any questions about the new Overlay shape or have suggestions to better improve the MLS please contact us at 505-843-8833 or mls@gaar.com.