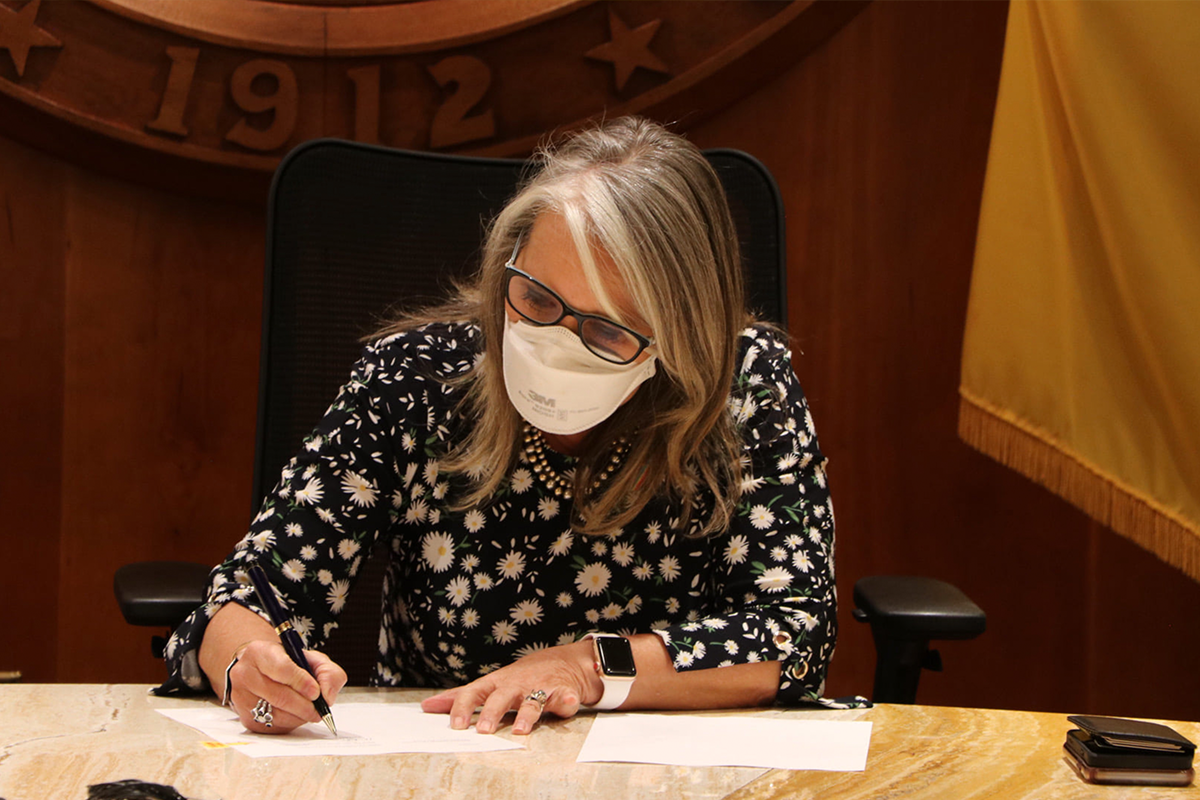 By Chris Keller – Managing Editor, Albuquerque Business First
Aug 17, 2021 Updated Aug 17, 2021, 5:10pm MDT
Calling masks and vaccines the most effective tools to guard against Covid-19, New Mexico Gov. Michelle Lujan Grisham on Tuesday outlined three primary measures aimed at blunting New Mexico's fourth surge of infections.
Across the state, New Mexicans will once again be required to wear masks in indoor public spaces, while school employees and specific health care workers must show proof of vaccination or face regular testing for Covid-19.
The measures, outlined in a pair of public health orders from Lujan Grisham and New Mexico Human Services secretary Dr. David Scrase, come amidst the spread of the Delta variant. The highly contagious form of the novel coronavirus is essentially responsible for the majority of — if not all of — Covid-19 infection records in New Mexico since early July.
"No one wants to go backward. No one wants to see our recovery endangered by another — and preventable –— surge of serious illness," the governor said in a prepared statement. "No one wants a full hospital turning away New Mexicans who need care."
For Grisham, going backward also meant refraining from re-implementing capacity restrictions for businesses or the color-coded, tiered county-by-county framework that was in place from November to July and meant to get the state out of the third surge of Covid-19 infections.
Among the elements of the public health order:
Beginning Friday, anyone over 2 years old is required to wear a mask in all indoor public settings except when eating or drinking. Businesses, houses of worship and other entities may enact stricter requirements at their discretion. The mask mandate will remain in effect until at least Sept. 15. However, the governor may decide to extend or lift the requirement as necessary.
Proof of vaccination will be required for all visitors to the New Mexico State Fair, which runs Sept. 9 to Sept. 19. The policy aims to ensure the safety of all attendees, especially children under the age of 12 who are not yet eligible to become vaccinated. If a visitor to the fair is deemed exempt, they must provide proof of the exemption.
All school workers in public, private or charter schools who are not fully vaccinated, or who are unwilling to provide proof of vaccination to their respective supervisors, provide proof of a Covid-19 test on a weekly basis beginning Aug. 23.
Hospitals, nursing homes, juvenile justice facilities, rehabilitation facilities and state correctional facilities, among others, will require employees to provide proof of vaccination.
Limited exemptions to the vaccine requirement for hospital and congregate care facility workers. They include a qualifying medical condition recognized by the U.S. Food and Drug Administration or Centers for Disease Control and Prevention; having a disability that requires a separate accommodation or a sincerely held religious belief that requires separate accommodation.
To become exempt, an individual must provide an employer with either a statement from a physician or nurse practitioner validating the need for a medical or disability exemption or a documented request regarding the manner in which the administration of a Covid-19 vaccine conflicts with the religious observance or practice or belief of the individual.
Anyone granted an exemption by the operator of a hospital or congregate care facility must then, under the requirements of the public health order, provide documentation of Covid-19 testing on a weekly basis.
Unvaccinated individuals who do not qualify for an exemption must receive their first dose of a Covid-19 vaccine by Aug. 27 and their second dose, as needed, within 40 days of receiving the first shot. Those individuals must also provide documentation to their supervisor or the operator of the facility in which they contract or work.
According to state department of health data, nearly 75% of New Mexicans over the age of 18 have had at least one dose of the Covid-19 vaccination. And nearly 66% of New Mexicans over the age of 18 can be considered fully vaccinated.
Fifteen New Mexico counties have less than 60% of their residents vaccinated. Eleven of those — one-third of the state — have less than 50% of their residents vaccinated. This includes Catron, Chaves, Curry, De Baca, Eddy, Harding, Lea, Otero, Quay, Roosevelt and Torrance counties.
Scrase, who is also the acting health secretary for New Mexico, on Tuesday reiterated that modeling shows New Mexico is in for increased Covid-19 infections and hospitalizations related to the coronavirus.
We are well on our way to 900 to 1,500 infections each day, he said, adding those numbers could come as soon as the end of the month.
Because of the highly contagious Delta variant and the relatively lower vaccination rates, cases could really spike in the Southeastern portion of New Mexico.
Based on available data from other countries and modeling from the Los Alamos National Laboratory, a surge in infections from the Delta variant could last as long as three months, Scrase said.
That puts us near Thanksgiving, he said.
After months of decline, the number of people infected with Covid-19 and hospitalized from the virus averaged over a seven-day period have surged since the beginning of July, according to the latest weekly New Mexico Department of Health epidemiology report.
The state recorded 442 Covid-19 infections on July 5 for the preceding seven days. About five weeks later, on Aug. 9, that figure increased to 3,495 — an increase of more than 690%.
Meanwhile, hospitalizations reported in New Mexico have more than tripled in the last three weeks. Monday's 304 people hospitalized with Covid-19 is the highest level since Feb. 13.
Historically, increases in hospitalizations trails increases in cases by about two weeks, according to state health officials.
New Mexico announced its first Covid-19 infections on March 11, 2020, and put into place restrictions on businesses and other aspects of daily life in an attempt to halt the spread of Covid-19 infections. Those restrictions ended on July 1.
Since the pandemic reached New Mexico, more than 215,000 people have tested positive for Covid-19, 4,430 people have died from the virus and laboratories have screened more than 3.8 million tests.
Source: "New Mexico to reintroduce mask mandate for indoor public spaces, adds vaccination requirements in education and health care settings"