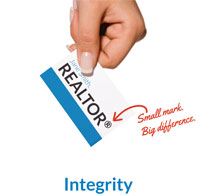 Integrity.
It's the number one quality our local consumers look for in a real estate professional.
Through your subscription to our strict Code of Ethics, it's what sets you apart.
The Code helps you build trust with your clients...IF they know about it. To eliminate that IF – and add more value to you as a member – GAAR has developed a campaign to educate the public about the "Value of a REALTOR®" by focusing on building trust and integrity through our Code of Ethics.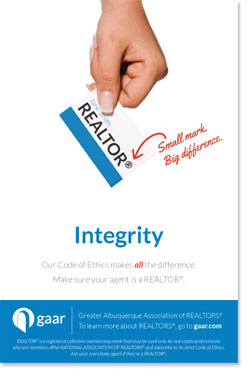 As a brand, "REALTOR®" has almost become synomous with real estate professional. Recognizing this issue, the National Association of REALTORS® has made the consumer outreach advertising campaign a core standard for local assocations like GAAR. Our combined goal is to restore value to the brand and, in doing so, increase the value of your membership. At the local level, we have developed a clean, simple campaign to do just that.
We've launched a new print compaign that will run in the remaining 2015 issues of Albuquerque the Magazine and Su Casa plus key issues of The Alibi. Our print advertsing will be supplemented by digital advertising in the fall. Our first ad was launched on May 26th with a full page ad in the "Homes and Gardens" edition of Albuquerque the Magazine. We will have a 1/3rd page verticle ad in the upcoming Summer edition of Su Casa.
The campaign will carry through the early 2016. In the weeks prior to GAAR's Grande Open House Weekend, we will be launching an exciting New and Improved campaign that will continue to build trust in the community (Stay tuned to learn more about that).
Fall Ad Schedule
Below is our fall print advertising schedule:
Albuquerque the Magazine
Jun – Home & Garden: Full page
Jul – Experts in their fields: 1/2 page
Sep – State Fair, retirement: 1/2 page
Oct – Balloon fiesta /Homegrown: 1/2 page
Dec/Jan – Real Estate: 1/2 page
Su Casa Magazine
Summer - Outdoor living: 1/3 page
Autumn – Fall Homes of Enchantment Parade: 1/3 page
Winter – Home Expo Edition: 1/3 page
The Alibi
7/23 – Dining guide: 2.37" x 11"
8/20 – Education: 2.37" x 11"
9/10 – State Fair: 2.37" x 11"
10/1 – Balloon Fiesta: 2.37" x 11"
10/8 – Best of Burque Restaurants: 2.37" x 11"
Keep an eye out for our upcoming ads. If you have any questions about our ad campaign, please contact Eva Medcoft, Manager of Communication and Outreach, at eva@gaar.com.