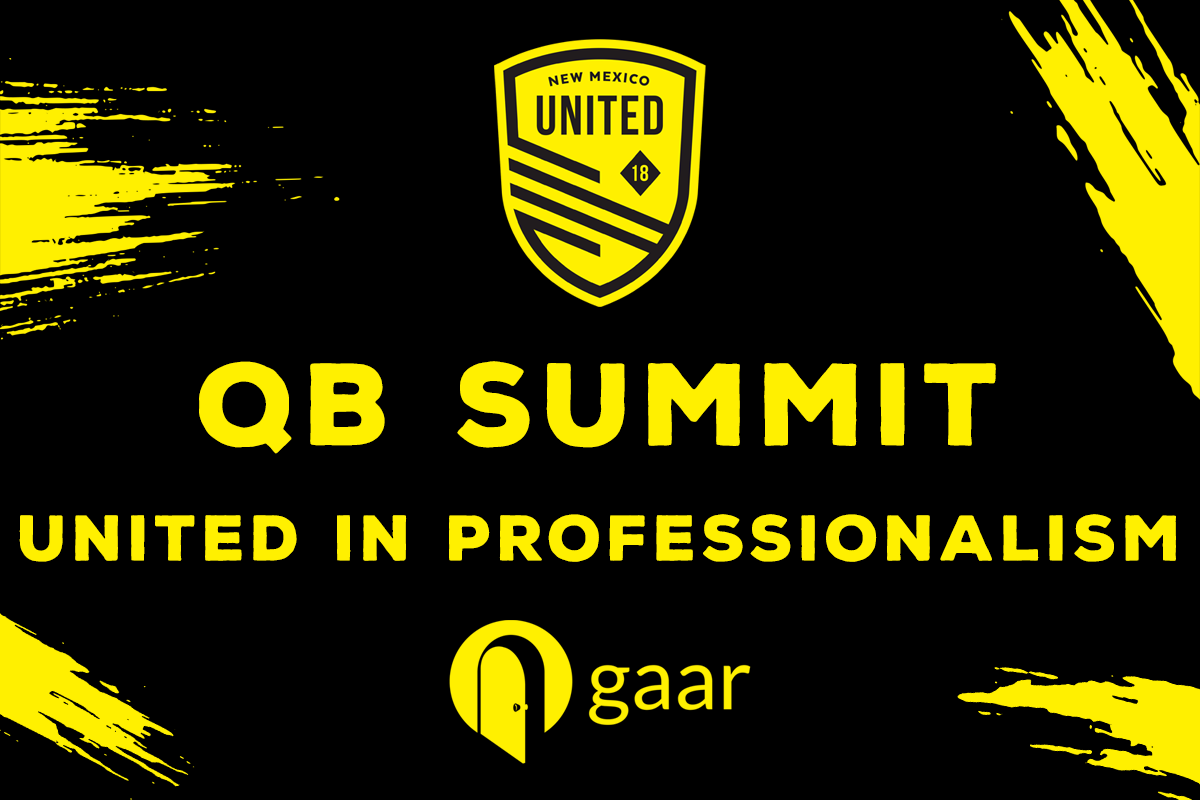 All GAAR QBs are invited for a free day of education and networking. The curriculum is designed to provide you with advanced training focused on professionalism. QBs have the opportunity to earn 1 Free CE by attending "Essentials of an Effective Policy Manual."
QB Summit "United in Professionalism"
Thursday, February 16th
8:45 am - 3:00 pm
Tramway Plaza, 9600 Tennyson NE
(West of County Line)
Free to Attend
Registration is no longer available
QB Summit Schedule
8:45 am: Registration, Breakfast & Networking
9:30 am: Welcome with 2023 GAAR President Carrie Traub
9:45 am: "Professionalism in 2023" with Ashley Strauss-Martin
10:45 am: "QB Edition: Flex Settings and Reports" with Richard Gibbens
11:15 am: Skyslope Q & A with Cathy Colvin, SkySlope Transition Task Force Liason
11:40 am: Lunch catered by Gourmet to Go
12:35 pm: Keynote Speaker Ron Patel, New Mexico United
1:15 pm: "Essentials of an Effective Policy Manual" (1CE, Core Elective) with Susan Blackwell
2:15 pm: Closing & Final Drawings
About Your Presenters
Ron Patel currently serves as New Mexico United Chief Business Officer. Ron was one of the original founders of New Mexico United and has served in various roles in the club.
Ashley Strauss-Martin has served as NMAR's General Counsel since 2007. Her responsibilities include NMAR Forms, the Legal Hotline, Legal Updates, and is a contributing writer to the NMAR Voice. In addition, she lobbies bills at the state level and serves as an expert witness before the state legislature on bills she's authored. Strauss-Martin also has a private practice, Real Estate Law Associates, and is the owner of New Mexico Escrow Solutions.
Cathy Colvin, a long-time REALTOR® has received many awards and served in numerous leadership positions at the local, state, and national levels. She currently serves as a NAR Director and is the 2023 NMAR Central District Vice President.
Susan Blackwell has 12 years of experience as a REALTOR® and was named Super QB in 2016. Susan is an active GAAR Member, LDP Graduate and currently serves on Professional Standards and the SWMLS Policy Committee. In the past, she has served on GAP, LEAP, and the Professional Development Advisory Group. This highly educated member has gained experience in several industries but her passion is helping new homeowners reap the benefits of homeownership in the Land of Enchantment.
Richard Gibbens is the SWMLS Director at GAAR. Richard hails from Panama City, Florida, and has been involved with CMLS and RESO to help drive the MLS industry forward. Richard, his wife Kayla, and young daughter Claire are happily adjusting to the red and green. Richard is a long-suffering fan of the Miami Dolphins, a Florida Gators alumni, an avid LEGO fan, and enjoys trail riding in his Jeep.