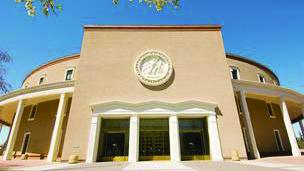 Jun 8, 2015, 2:46pm MDT
Dan Mayfield
Albuquerque Business First
Legislators are meeting Monday during a special session to consider a capital outlay bill… more
The New Mexico Legislature re-convened Monday and the Senate soon passed a $295 million capital outlay package after Gov. Susana Martinez officially called the special legislative session to order.
The Senate's passage of the bill is the first step in the overall legislature passing a package that includes millions for roads and schools. The House must also pass its version of the compromise bill before it can go to Martinez for a signature.
"The passage of this bill will create 15,000 jobs over the next three years," said Senate Majority Whip Michael Padilla, D-Bernalillo, from the floor.
The bill will be financed via severance tax and general fund dollars.
"New Mexicans will benefit as we spur on economic development. The $295 million will be invested in over 1,000 different projects throughout the state as critical infrastructure is addressed," said Sen. Stuart Ingle, R-Albuquerque, in a release.