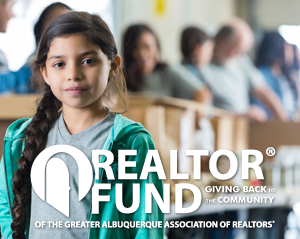 Giving Back to The Community
The REALTOR® Fund of the Greater Albuquerque Association of REALTORS® provides a permanently sustainable fund to provide aid to our community in:
Creating adequate housing;
Building functioning cities;
Developing productive industries; and
Preserving a healthful environment.
Our goal was to create a $1 Million endowment fund by GAAR's 100th Anniversary in 2021. Once we reach that goal, the fund can gift over $70,000 to a local charity even if we do no additional fundraising.
By May 2015, only 4 years in, we have already surpassed the halfway mark. The REALTOR® Fund has already raised $650,000 while improving the lives of its community.
While we are growing the endowment, the REALTOR® Fund continues to give back to the community.
To date, the REALTOR® Fund has given $77,400 to the APS Title 1 Project. The project offers many services to close to 5,000 homeless children and their families, including: enrollment assistance, school supplies, school uniforms, and after school tutoring programs.
The Fund has also gifted $4,225 to the New Day Youth & Family Services, $4,875 to El Ranchito De Los Niños, $3,900 to Manzano Mountain Early Learning Center, $1,500 each to All Faiths Receiving Home and Cuidando Los Niños, and $1,00 each to East Mountain High School and Valencia County Literacy Council.
As REALTORS® working closely within our community, we know you understand its needs and want to help it grow stronger. Donating to the REALTOR® Fund is one way you can help do just that.
Additionally, for each $50 you donate, you will be entered to win a trip for 2 within the US. (Note: We will enter you automatically for each $50 you donate.)
To learn more about donating to the REALTOR® Fund, download this flyer or click here to donate now.