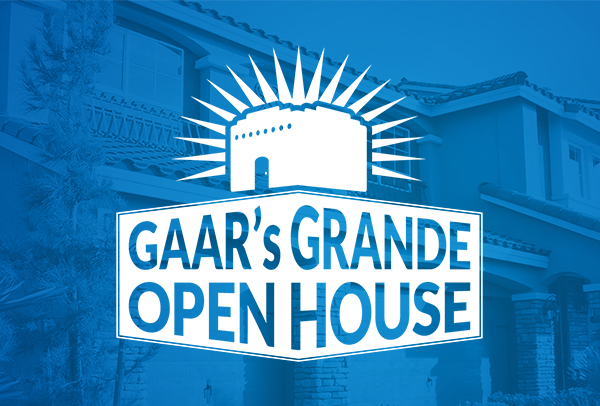 April 18th and 19th is GAAR's Grande Open House Weekend. But you may be asking yourself "What's in it for me?"
Here are the Top 5 Reason's you should participate in the Open House Weekend:
1. Free advertising and PR
As a benefit to our members, GAAR will be advertising the weekend to the primary home-buying audience—Gen-X and Millenials. This includes advertising in the Alibi, The Edge, The Peak, Jose, Univision and The Journal. In addition to all the local event calendars, our media buy covers print, broadcast and extensive online advertising.
2. Fun, Albuquerque-centric marketing material and promo items
During REALTOR® Week, we whave engaged several fun and educational New Mexico and Albuquerque-centric speakers to help re-invigorate our REALTORS® on the awesomeness of our home town. If you are not lucky enough to join us on Celebrate Albuquerque Day on April 15th, you are encouraged to stop by any time during the week—and especially on Friday—to pick up swag bags, your open house signs and balloons. Since supplies are limited, swag will be first come first serve!
3. Safety in numbers
APD and other local police departments have been notified that we are having this large open house event. They will have the list of houses and will look for the open house signage. So in addition to taking your usual open-house safety measures, there will be an extra eye out to help keep you safe.
4. A reason to call on-the-fence sellers again
What seller doesn't want as much marketing as possible to sell their home?
5. Did we mention free advertising?
Throughout REALTOR Week, from April 13th through the 19th, we are investing $7,000 in advertising to drive potential homebuyers to the Open House page on the GAAR Website so they can plan their open house weekend. When you're inventory is available, go to the quick form at http://www.gaar.com/openhouseweekend to authorize GAAR to pull the MLS information for the Open House page. If the property closes (or has a sale pending) before or during the weekend, it will automatically be dropped from the online tour list.
Get the word out to your associates: Download the Open House Flyer Here
Safety First: Read more about Open House Safety Tips
Don't miss out on fun and educational speakers, learn more about Albuquerque REALTOR® Week.
Want to learn more about the future Albuquerque's real estate trends? Sign up for this special presentation by Arthur C. Clark–select the morning (9:30am-noon) or afternoon (2:00-4:30) session. Reserve your seat now–space is limited.
Learn about Albuqueque Initiatives; Become an Official New Mexico True Ambassador: Sign Up for Celebrate Albuquerque Day – morning session, afternoon session or both.