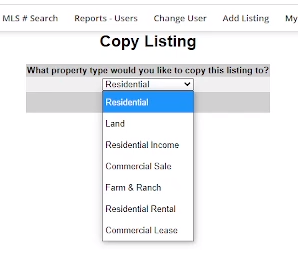 Your SWMLS Board of Directors and Policy Committee recently enabled a feature that will save you a considerable amount of time when listing an entry!
Using the copy function in Flexmls, you can copy the majority of the fields from an existing or former listing when entering a new listing even if the property type is different. Previously, you could only copy within the same property type. Now, as an example, you have the ability to copy a Residential Listing that you want to list as a Rental.
The function will only copy fields that are exactly the same, so it won't copy everything, but it will copy a large chunk, including photos!
Keep in mind, the function is limited to your own listings. You should NEVER copy another member's photos or Remarks without their permission, as stated in the Code of Ethics.
This quick video will explain how to use this new feature:
If you have any questions, please contact the SWMLS Staff at 505-843-8833 or mls@gaar.com.