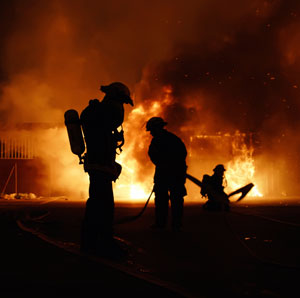 As the temperature rises, so does the risk of theft, vandalism and fire. That risk increases several times when a property is left vacant.
Vacant homes are targets for theft (primarily of appliances) and vandalism. When left unattended too long, they have a much higher risk of fires set by vandals, squatters or arsonists.
As a REALTOR®, there are things you and your seller can do to decrease those risks.
First and foremost, the property needs to be checked daily (by you or your seller). If there are broken windows, doors or a missing lockbox, inspect the house for theft and damage. Call the police to report the break-in before you repair the damage.

If the lockbox is missing, change the locks and alarm codes immediately (if the code was in the lockbox). Our current lockbox technology is over ten years old and theives now know how to break into them. Since they can't break into the lockbox easily, they must take it offsite then come back later to steal property.If they just stole the lockbox, you may be able to stop theft from occuring later that night.

Once you've filed the police report and changed the locks, call member services at 842-1433 so we can report the theft to Supra.

Maintain the property. Make sure the landscape is maintained and trash that blows onto the property is removed. Repair any other damage as soon as it occurs.
Have a neighbor park a car in the driveway.
Make sure the windows are covered with blinds or curtains. If the electricity is kept on, leave a lamp with a timer to make the house look more lived in.
Install outdoor motion-sensor lights in the front and back. If the electric is turned off, make sure that the lights are solar or battery powered.
If neighbors are distant (either by geography or personality) or if there are a lot of vacant homes in the neighborhood, put the lockbox on a back door.
Since your seller has moved on, they are probably already stressed about carrying two mortgages. Your seller may be less than thrilled to hear most homeowner insurance policies end 30 days after vacating the property. However, it is important that they understand the risk involved with leaving their property uninsured. It's a good practice to advise your seller to contact their homeowners insurance broker or seek a quote from a vacant home insurance specialist.
Vacant home insurance is not cheap. Vacant properties have a higher risk of fire, so the policies are priced accordingly. Depending on the risk associated with the your seller's particular neighborhood, the rates in Albuquerque range from $85 - $120 a month. The policies are typical quoted as an annual policy – which can lead to a bit of sticker shock, but can be broken down into monthly payments and can be cancelled once the house is sold. Unless the mortgage is paid off, your seller will probably want to keep it covered. If they don't, they could be left holding the bag for two mortgages for a very long time.