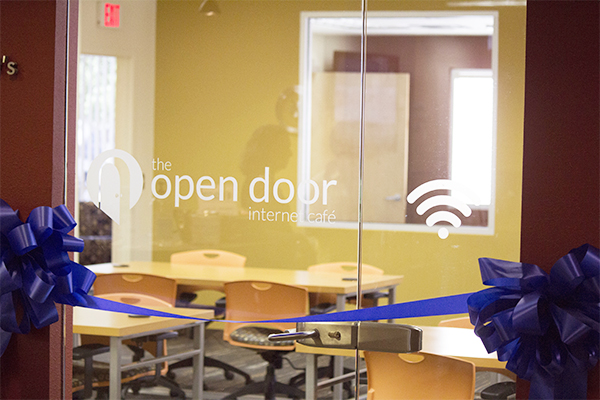 June 15, 2015 marked the grand opening of your new, state-of-the-art Open Door Internet Café. GAAR President Paul Wilson was on hand for the ribbon cutting ceremony and members were treated to the first walkthrough of the space, along with champagne, cake, and appetizers.
The winner of our first annual New Mexico Nature Photo Contest was also announced. Jeanne Schnoor was the grand prize winner and her work "In Flight" will be framed and displayed in the new Café. The runners up will have their photos displayed in the new conference room. View all of the winners of the New Mexico Nature Photo Contest.
The Open Door Internet Café is for you, the REALTOR® member. Part relaxing member lounge and part high-tech open lab space. With three large screen TVs, "hot" tables to plug in your laptop and high-speed WiFi, Open Door will be your home away from home. Use the space to get work done, learn new technology or just unwind after class. Next time you're at the REALTOR® Building, take some time to visit the new member center and the new Open Door Internet Café.