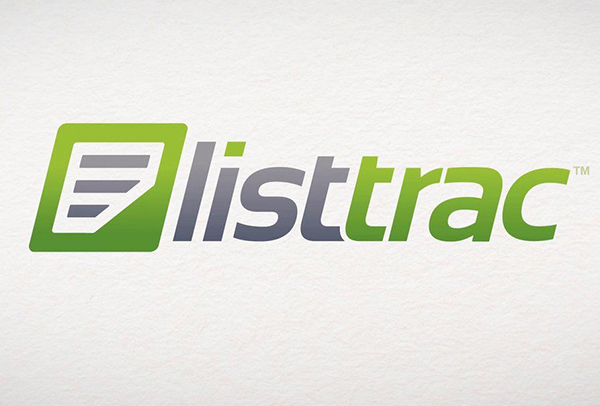 "Listing Metrics" is an MLS term that deals with the analytics of where your MLS listings go online. If you have an Active listing in the MLS then it is generating different types of metrics on a daily basis. When consumers view the listings on Zillow or view it on a local Broker operated website, metrics are generated for how the listing is viewed or shared online. There are several MLS products that SWMLS users can access to view these metrics. And all the products have a way to share the information directly with the seller.
If you work with sellers and having listings for sale in the MLS it is a good idea to know what "Listing Metrics" are.
Here are some of the common "metrics" that are tracked on an MLS listing.
Property Views - occurs when a consumer clicks on the thumbnail view of a property to view more details, while still on that home search website.
Click-Throughs - occurs when a consumer is redirected from another website to the property page on that home search website.
Inquiries - an event where the consumer starts an email interaction with the broker or agent using a link on the website. This would result in the broker/agent receiving an email with a return email address for the consumer. Includes the number of times a consumer clicked on "Click to view phone number" or called the listing broker or agents via a mobile app.
FLEX Portal Views – Number of times the listing was included in another Auto-Search setup by another MLS REALTOR user, and added to that client Portal.
FLEX Email Count – Number of times the listing was emailed out of the FLEX system, by another MLS REALTOR user.
Here is a quick summary of the MLS products that can be used to generate Listing Metrics
FLEX MLS Activity Reports – The FLEX Activity reports are accessible only to logins with the ability to edit the displayed listing, summarizes listing activity through FLEX, internet sites, customer portals, FLEX messaging, and listings shared through portals and FLEX *IDX sites. The information on the report is continuously updated, so the numbers will reflect the live statistics for the listing. The screenshot shows a snapshot of a FLEX Activity report.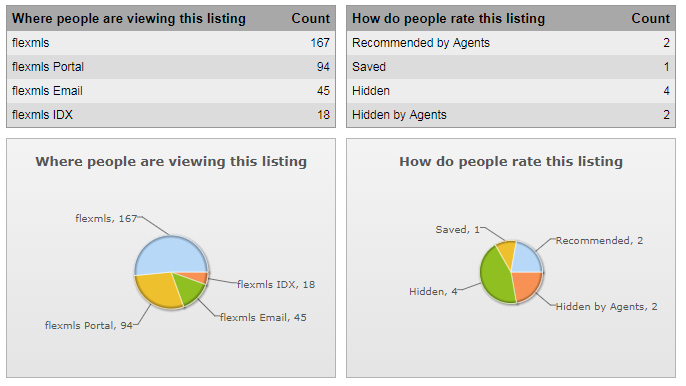 ListTrac Reports - ListTrac allows REALTORS® to view reports on how their listings are performing across the web. ListTrac can be found in the FLEX Menu by going to the Products section. It should already include your listings and no setup required (except for your profile picture). The screenshot shows a snapshot of the ListTrac Dashboard.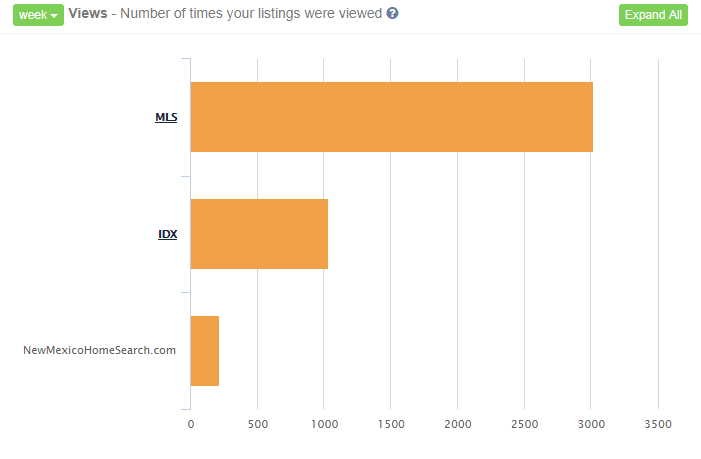 ListHub Reports (Office must opt in to ListHub) – If your Brokerage has opted in to ListHub then you should have access to monthly ListHub reports which show how your listings are being viewed on 300+ Publisher Channels. The screenshot shows a snapshot of the ListHub Traffic report.