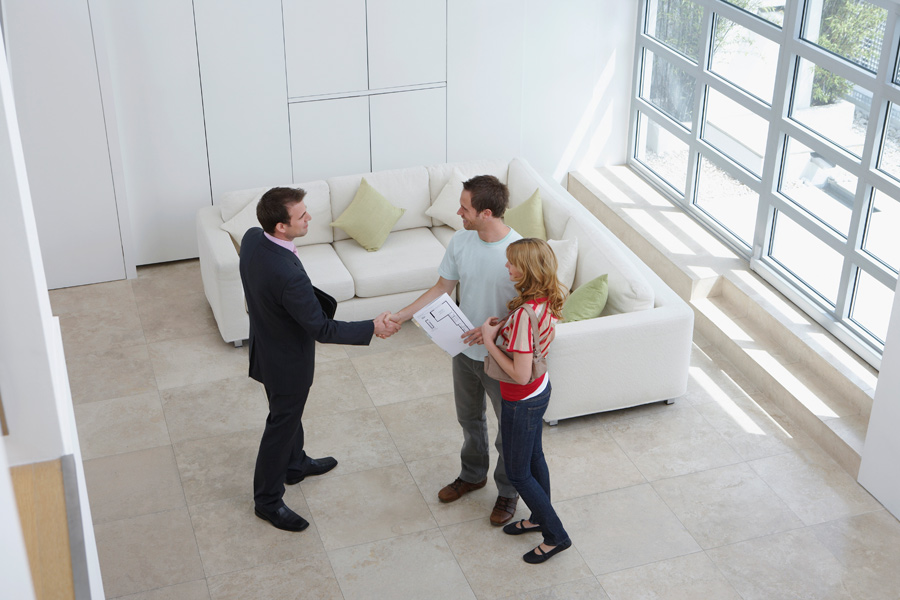 According to the 2016 Designation Survey, GAAR Realtors recommend the Council of Residential Specialist (CRS) designation above all others.
The Council of Residential Specialists is the largest not-for-profit affiliate of the National Association of REALTORS®. With nearly 30,000 members, CRS represents the most successful REALTORS® in the U.S. We provide best-in-class continuing education, networking, practitioner-developed tools, and mentoring—and we also award the CRS Designation to experienced agents who have completed advanced professional training and demonstrated outstanding professional achievement in residential real estate.
$195 is all it takes to shift your career into high gear. For the price of a few dinners out, you can be one step closer to guaranteed success in your career as a real estate agent.
Your CRS membership includes access to:
Comprehensive sales and marketing education in the widest variety of formats such as live classroom, self-paced eLearning, webinars, recorded instruction, events and printed material
CRS education is focused on today's market environment, with successful, practicing instructors who cover a host of timely and relevant topics
Results-focused tools and business resources help ensure success
The Residential Specialist – our award-winning magazine available only to members in both print and online formats
Our continuing dedication and commitment to raising the standard of excellence in the real estate industry
The Certified Residential Specialist (CRS) Designation – as a member, you're eligible to apply for the CRS designation, which is the highest credential awarded to residential agents, managers and brokers, and the only one based on production & education
One of the most effective and extensive CRS-to-CRS referral networks in the industry. Our CRS Designees deliver meaningful referrals that result in sales
CRS members who have met certain educational and professional requirements are eligible to apply for the Certified Residential Specialist (CRS) Designation. The CRS Designation signals to consumers and other real-estate professionals that you are one of the best of the best.
Why CRS
Annually, Certified Residential Specialists earn more than triple the income of the average REALTOR®, and CRSs complete nearly twice as many transactions each year. Out of more than 1 million REALTORS®, less than 3% are Certified Residential Specialists.
That little percentage equals a huge advantage for agents looking to expand their real estate business, differentiate themselves from a million other agents, and put themselves on a proven path to success.

CRS Designees are more successful than the average REALTOR®. By becoming a CRS member and earning your Certified Residential Specialist designation, you will secure your place in the top 3% of real estate agents in the country, and you'll unlock a number of additional CRS-specific benefits, including:
Use of the CRS Designation trademark
Listing in the premier CRS Referral Directory – including print, online and in the Find a CRS smart phone application
Additional discounts on CRS educational opportunities and events
CRS Designee consumer marketing materials
Eligibility and Requirements
Education and Experience: Signposts of Professionalism
Education and experience is what being a Certified Residential Specialists (CRS) is all about. They are the foundation of the CRS Designation and, together, will lead you down the path to success. Whether you're new to the business and still building productivity or an experienced sales agent with high production; and whether you're in a high-priced market or low one, CRS offers a plan to meet your level of experience, market profile and personal learning preferences.
Pick the path that matches your level of experience.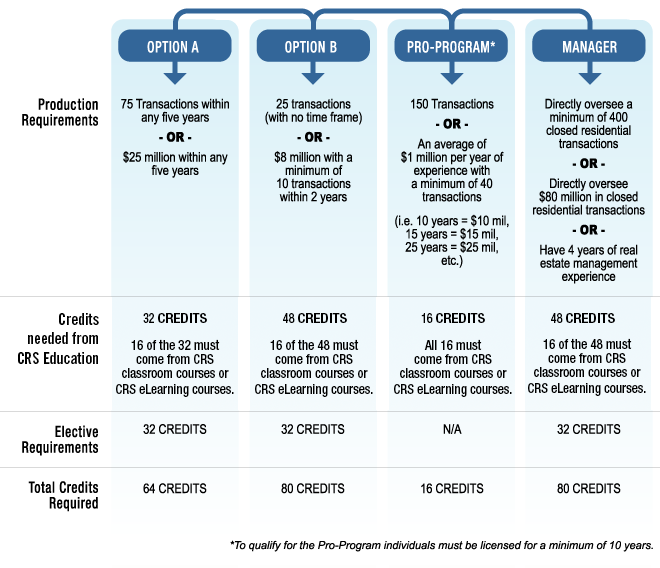 Designation programs require membership in the Council of Residential Specialists. All members are required to maintain active REALTOR® or REALTOR ASSOCIATE® membership in their local board/state association. A $75 processing fee applies to all designation options. There is no time limit in fulfilling the requirements.
CRS Education Credits
The Council offers a wide range of classroom and eLearning courses as well as education events and webinars from which to earn CRS Education credits. For each program option, a minimum number of Education credits must come from CRS courses (classroom or online). The remaining Education credits may be earned from attending Sell-a-bration, the annual education conference, and from CRS webinars. View the full list of CRS Education credit options here.
Elective Credits
A total of 32 Elective credits are required to earn the CRS Designation for all except those pursuing the Pro-Program. Elective credits may be earned by taking CRS Education courses above and beyond the minimum required and/or by additional productivity (closed transactions or related income). You also can earn Elective credits by completing select courses offered by the National Association of REALTORS® or approved non-CRS distance learning courses, and for holding a bachelor's degree and other related REALTOR® family professional designations. View the full list of Elective credit options here.
Start Earning Your Credits Today
Completing your credit requirements for the CRS Designation is likely easier than you think. View the lists of CRS Education and Elective credits and start ticking off credit you may already have earned and mark those courses you'd like to take. Visit our course schedule page to see when specific courses are being offered near you.
Learn more about joining the Council of Residential Specialist today.