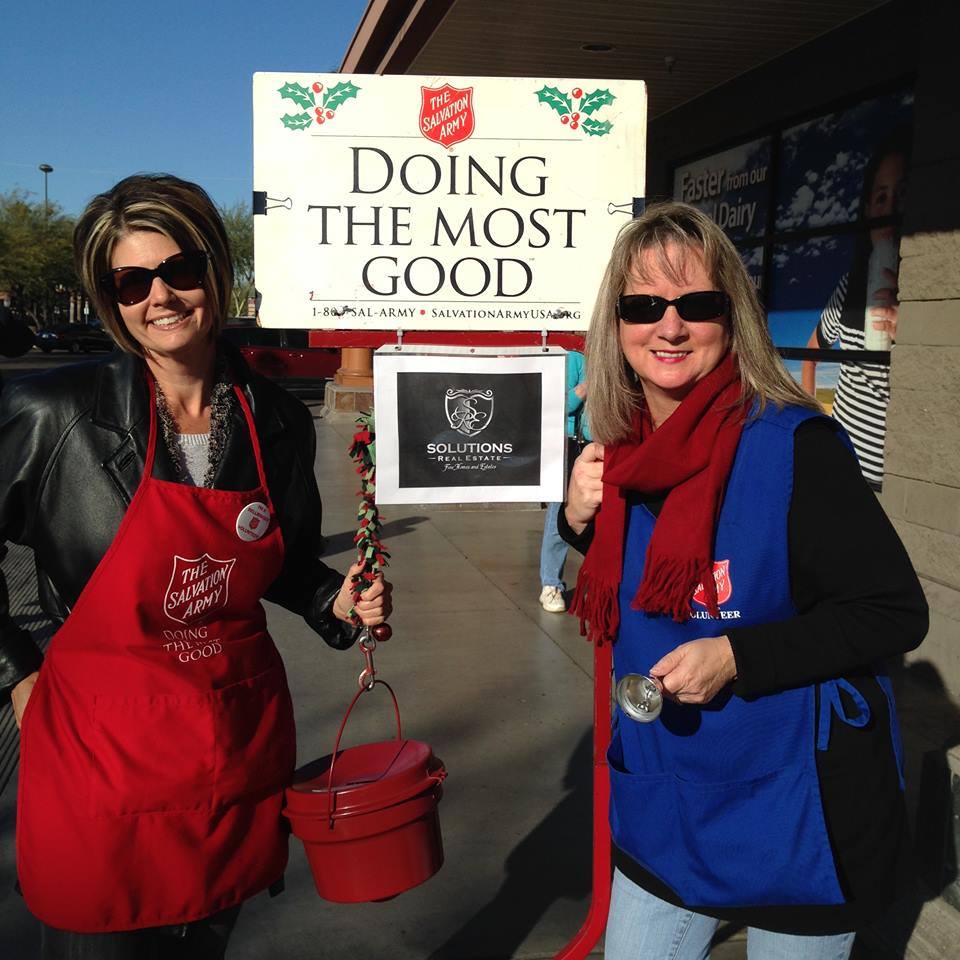 Sometimes the best way to give thanks is to give back.
And one of the many ways GAAR REALTORS® and Affiliates give back is by ringing bells during the Salvation Army's Red Kettle Campaign.
This annual holiday campaign is critical to the Salvation Army's annual fundraising goals. Their volunteer bell ringers help bring in over 65% of Salvation Army contributions – all of which go to providing Social Services for individuals of Bernalillo, Sandoval and Torrance County.
The social services the Salvation Army provides to our community include:
Emergency Food
Clothing
Transportation
Utility and Rental Assistance
Medical and Pharmaceutical Assistance
Meals
Youth Leadership Development
Education
Christmas for Families
When you collect donations for Salvation Army, you can be certain that 83¢ on every dollar goes to directly aid and if you donate to one of their emergency relief funds, 100% of donations goes directly to those in need.
Bell ringing begins Saturday, November 26th.
By ringing bells for the Salvation Army, we help them continue their social service focus of bridging the gap with assistance when financial hardships occur to keep families independent, self-sustaining, safe and in their homes.
How it works:
To make you're bell ringing more successful, "Those Callaways," popular Phoenix REALTORS® and best selling authors JoAnn and Joseph Callaway, have developed an awesome Bell Ringing program that is also a new holiday contact point for your clients.
Bell Ringing Schedule
2 hour shifts starting at 9 am through 6 pm. Just click on the link below to email Anne Vallejos for the day you would like to sign up, and she will contact you with available times and instructions.
Saturday, November 26th - Hobby Lobby Eagle Ranch
Email to sign up for this day. Team Captain is Antoinette Baca
Wednesday, November 30th – Hobby Lobby Juan Tabo
Email sign up for this day. Team Captain is Antoinette Baca
Saturday, December 3rd – Sams Club Eubank
Email to sign up for this day. Team Captain is Mindy Abramson
Wednesday, December 7th – Sams Club Eubank
Email to sign up for this day. Team Captain is Mindy Abramson
Saturday, December 10th – Walmart on Coors & I-40
Email to sign up for this day. Team Captain is Lisa Donoghue
Wednesday, December 14th – Walmart on Coors & I-40
Email to sign up for this day. Team Captain is Lisa Donoghue
Saturday, December 17th – Hobby Lobby Eagle Ranch
Email to sign up for this day. Team Captain is Anne Vallejos
Wednesday, December 21st – Hobby Lobby Eagle Ranch
****BOOKED**** Team Captain is Anne Vallejos
Contact Information
Bell Rigning Manager for REALTORS® & Team Capatin: Anne Vallejos - Cell 505-331-8306
GAAR Liaison: Eva Medcroft - Cell 505-280-0095
Team Captain Antoinette Baca - Cell 505-379-6006
Team Captain Mindy Abramson - Cell 505-506-5033
Team Captain Lisa Donoghue – Cell 505-217-6089