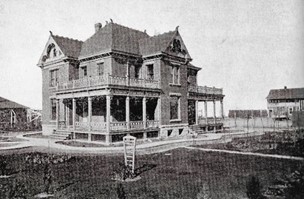 Cultural Historian William A. Dodge, PhD, will present a 2CE course that will review the architectural styles and trends in Albuquerque Neighborhoods. The class will also cover how growth impacted design trends and special considerations for historic properties and overlay zones.
This First Wednesday Affiliate presentation is part of our Centennial celebration as we spend 2021 reviewing the history of Albuquerque and the role that REALTORS® played in the development of the community and real estate industry.
First Wednesday Affiliate Q & A
"ARTitecture" Albuquerque Architectural Styles and Design Trends
2 CE (Elective)
Wednesday, July 7th
8:30 am - 9:00 am: Login
9:00 am - 11:00 am: Presentation
Free to GAAR REALTOR® /$20 Non-GAAR REALTOR®

To earn CE, register to attend:




To view with no CE:
https://www.facebook.com/ABQRealtors/
---
Special Thanks To Our Sponsors
Mindy Abramson, Distinguishing Style
Antoinette Baca, Farmers Insurance
Jeff Gorum, Southwest Home Inspections
Jen Jaciw, Workspace Dynamics
Jorge Lopez, Fidelity National Title
Brian Mucher, Liberty Mutual
Pete Stagl, Servant 360°
---
William A. Dodge, PhD
William (Bill) Dodge, a Cultural Historian has spent over 45 years in historical, anthropological, and archaeological research in support of historic preservation projects. He received his undergraduate and graduate degrees in anthropology from the University of Arizona and the University of Chicago, respectively; and a doctorate in American Studies from the University of New Mexico.
Bill's varied career includes working as an archaeologist for the Arizona State Museum and the Pueblo of Zuni and as a cultural resources specialist for the Bureau of Indian Affairs and the Albuquerque Area Indian Health Service. He also worked in the private sector: as senior cultural historian with Van Citters Historic Preservation, and as a consulting historian to the City of Albuquerque. Bill also served on the city's Landmarks and Urban Conservation Commission.
Bill has written on a variety of topics including pre-Columbian cultures in the American Southwest, ethno-historical studies for New Mexico Pueblos, World War II, and Cold War military history, and the architectural and social history of twentieth-century Albuquerque.