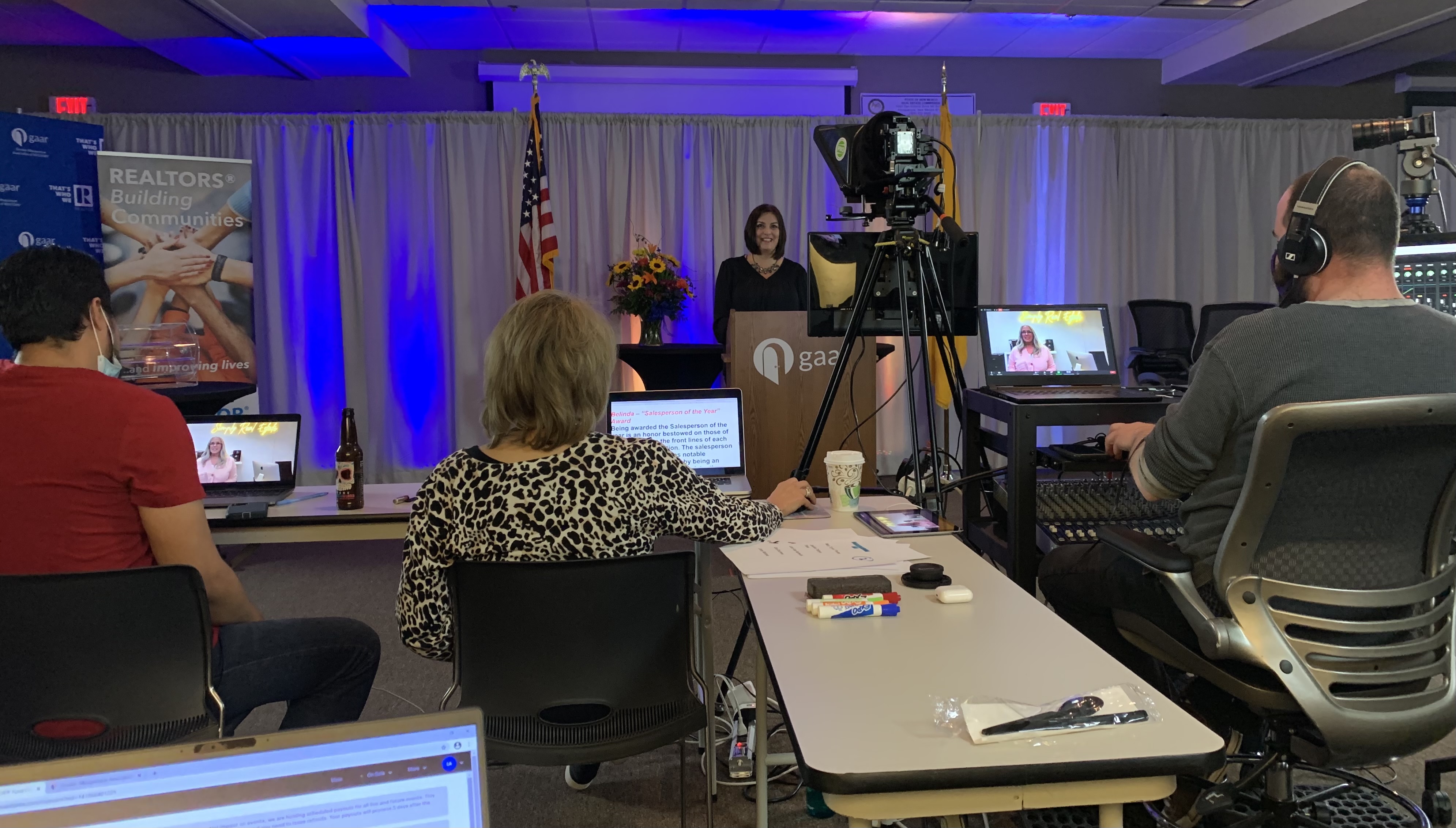 On Friday, March 5th, GAAR held its first-ever virtual Awards Gala to celebrate the achievements of our members in 2020. Awards were presented by last year's category winner and the awards were uniquely presented to the surprise of the winners which was captured on video. The evening was hosted by 2020 GAAR President, Sherry Fowler and 2021 GAAR President, Belinda Franco. Our special guest for the evening was well-known motivational speaker Leigh Brown who shared her wisdom on being a REALTOR® during a pandemic year. The evening was virtually a success!
The Honorees for the 100th Awards Gala are:
2020 REALTOR® of the Year: Jeanette Raver, Realty One of New Mexico
One of the highest honors a member can receive during their real estate career, the REALTOR® of the Year Award acknowledges a member who has actively contributed to the success of both the REALTOR® organization and the industry, as well as exemplifies professionalism while serving the Greater Albuquerque community.
2020 Doyle Pargin Lifetime Achievement Award: Cynthia Harris, ERA Sellers & Buyers Real Estate
The Doyle Pargin Lifetime Achievement Award recognizes longevity and achievement in the profession, service to the industry, and model professionalism.
2020 Sales Manager of the Year: Bridget Gilbert, ERA Sellers & Buyers Real Estate
2020 Salesperson of the Year: John Lopez, Coldwell Banker Legacy
2020 Rookies of the Year: Jennifer Rodgers, Simply Real Estate and Russell Payson, Coldwell Banker Legacy
2020 GAAR Affiliate of the Year: Jeff Gorum, New Mexico Home Inspections
2020 Scholarship Winners
$1,000 Scholarships are awarded to REALTOR® Family members entering the real estate industry. The scholarships help to cover the cost of tuition and licensing fees. Due to an unprecedented number of applicants -- 23, both sponsors and GAAR agreed to award two scholarships apiece, totaling a record six scholarships!
Sunwest Escrow Scholarship:
Vanessa Barela Johnson, daughter-in-law of Lynn Johnson, Keller Williams Realty
Stephen Manning, son-in-law of Peggy Wheeler, Realty One of New Mexico
New Mexico Escrow Solutions Scholarship:
Lisa Linbrugger, niece of Sylvia McCleary, Warren Lane Properties
Sinai Alejandro Gonzalez Rodriguez, husband of Monica Rodriguez, Realty One of New Mexico
GAAR Scholarship:
Tybi Finnegan, daughter-in-law of Pat Finnegan, ERA Sellers & Buyers Real Estate
Katelyn Smith, sister of Anthony Marino, Keller Williams Realty
2020 Production Achievement
If your production was $2M or more in 2020 and you would like a Production Certificate, please email your request to awards@gaar.com. Deadline to submit your request is Wednesday, March 31st. See below to download or view the lists.
2020 RPAC Major Investors
See which members achieved recognition for their contributions in 2020. Donate by clicking here.
REALTOR® Fund donates $100,000 in 2021!
To commemorate GAAR's 100 Year Anniversary, at the end of the year, the REALTOR® Fund will donate a total of $100,000 to our current recipients: Rio Grande Food Project, Saranam, and Serenity Mesa! This is more than double what they expected this year.
Awards Gala Raises $9,450
Proceeds from GAAR's signature events, including the Awards Gala benefit the REALTOR® Fund, an endowment established by GAAR members to demonstrate their ongoing pledge to the community and to express gratitude for a successful real estate industry. This year's Awards Gala raised $6,000 from sponsors and an additional $3,450 from individual donations. You can still donate by clicking here.
Congratulations to REALTOR® Fund donor Becky Perry for winning the $500 Southwest Airlines Gift Card!
Winners of Leigh Brown's Best Sellers
In addition to our big winners, 10 members were the lucky winners of a three-book set of Leigh's best sellers. Congratulations and happy reading:
Mary "Lynn" Porter
Jessica Tafoya-Fisk
John Van Nortwick
Gina Duchene
Jimmy Martinez
James Crabtree
Damian Sanchez
Arny Katz
Patricia Alofaituli
Timothy Wheeler
Special Thanks to our 2021 Gala Sponsors
DIAMOND
Waterstone Mortgage
PLATINUM
LoanDepot
Nusenda Credit Union
GOLD
Keller Williams Realty
Legacy Mortgage
Old Republic Title
Pop-a-Lock
Weichert Realtors Image
SILVER
Amerifirst Mortgage
Bank of Albuquerque
Coldwell Banker Legacy
Kirtland Federal Credit Union
Stewart Title
Supra