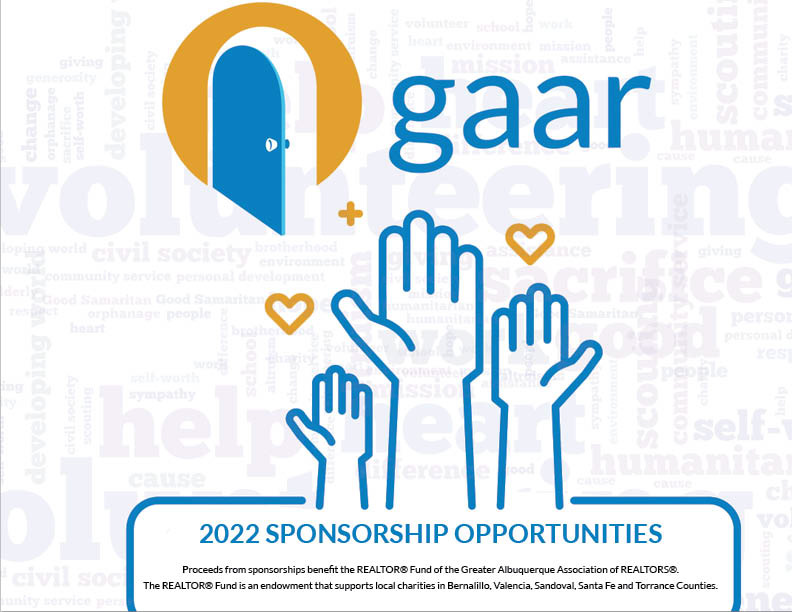 For more than 100 years, REALTORS® and Affiliates have played an integral role in shaping our local neighborhoods and communities. Not only do they help families purchase and sell homes, but they give back to the community through volunteering and monetary contributions.
Proceeds from GAAR events directly benefit the REALTOR® Fund, an endowment created in 2011 to support local charities. In just seven years, the REALTOR® Fund met its original $1 million dollar goal – four years ahead of schedule! Our new goal is $2 million, and we are well on our way with $1.6 million collected to date.
The deadline for the Diamond and Platinum Sponsorships was December 31st and we're pleased to recognize them:
2022 Diamond Sponsor

2022 Platinum Sponsors


2022 Gold Sponsors
Finance of America
Guild Mortgage
Legacy Mortgage
Pop-A-Lock
Weichert, Realty-Image
2022 Silver Sponsors
Bank of Albuquerque
My Auction Addiction
Pillar to Post Home Inspectors
Simply Real Estate
For remaining sponsorship opportunities, please click the link below. January 31st is the payment deadline for all Premium Packages which includes Diamond, Platinum, Gold, and Silver. Plus, all Awards Gala Sponsorships.

Donor Recognition
In 2019, GAAR installed the first phase of the REALTOR® Fund Donor Recognition Wall, located in the courtyard of the REALTOR® Building. This serves to honor all donors including individuals who have contributed $1,000+ and Corporate Donors that have contributed $5,000+. Each year the mosaic artwork is updated with new donor names. On your next visit to GAAR, please take a moment to view the artwork and reflect on the positive impact GAAR REALTORS® and Affiliates have made on the community. In the upcoming year, we look forward to your continuing support. We deeply appreciate your dedication in making our community a better place for all.
Sponsorship questions?
Contact Laura A. at 505-724-3487 or laura@gaar.com