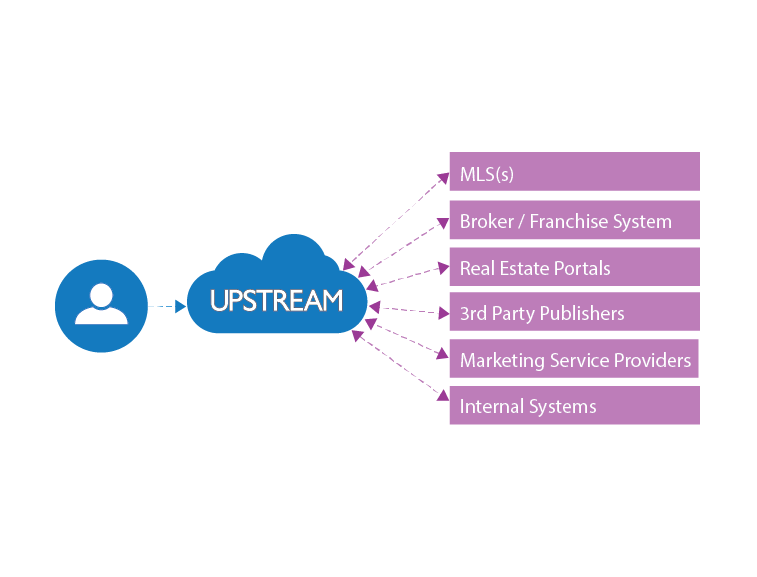 If you are a real estate broker participating in today's market, you know the importance of listing data. Today, in addition to just the listing data itself, the flow and distribution of that data is also very important.
For the longest time the MLS system has been the entry point for a listings journey into cyberspace. From that initial entry into the MLS, the listing can go to many places. It may travel to online real estate portals, such as Zillow and Realtor.com. It may go to thousands of broker sites through broker reciprocity, or Internet Data Exchange (IDX) as it is commonly called. It may even go from the MLS to broker back offices systems. In all these cases the listing broker is relying heavily on the MLS to be the transport. A couple of years ago some brokers came together to see if there was a better way to transport their listing data without such a heavy dependence on the MLS. Project Upstream is that initiative.
Upstream LLC has been incorporated and is in the process of building its infrastructure. The goal for Upstream is to build an interface for listing data entry. This entry point would come before the MLS entry. This would allow the broker to be able to transport and distribute listings without the dependency of the MLS. After a broker enters the listing into Upstream, the broker could then distribute the listing to portals, franchise sites, back office systems, and more. In addition, Upstream has also outlined the ability for listings in Upstream to be transported directly from Upstream into the MLS system. Upstream LLC has contract with REALTORS Property Resouce (RPR), a subsidiary of the NAR, to build this system.
The Upstream system is not an MLS and would not replace the need for an MLS. The main function of MLS is the offer of cooperation and compensation, and that is not something the Upstream product would provide. Upstream is a listing management system that would allow the broker to have better control and access to their listing data.
GAAR and SWMLS have always seen the value of brokers having the access they need to their listings and being able to easily control where those listings go. In years past, SWMLS has put in place systems, such as ListHub, to help brokers in that pursuit. This is only the next evolution in data portability and control. The vision of plug and play data and data standards is one the whole industry has been moving towards and Upstream is definitely part of this movement.
Upstream is still in its early stages, but as Upstream is being developed and information is released, you can be assured that SWMLS will be working with Upstream so that it is a viable option for brokers in this marketplace.