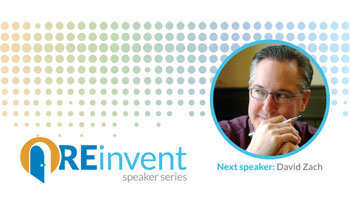 GAAR's speaker series – REinvent – is growing and we invite you to grow with us!
We are opening our speaker series to the general public and advertising to business leaders through advertising in Albuquerque Business First.
Our first REinvent-branded event is coming up fast, so we need to begin advertising in the next few weeks.
As a sponsor, your company will be included in all four of our ads in Albuquerque Business First (see our sample ad below), receive great exposure at the event itself, and receive free tickets.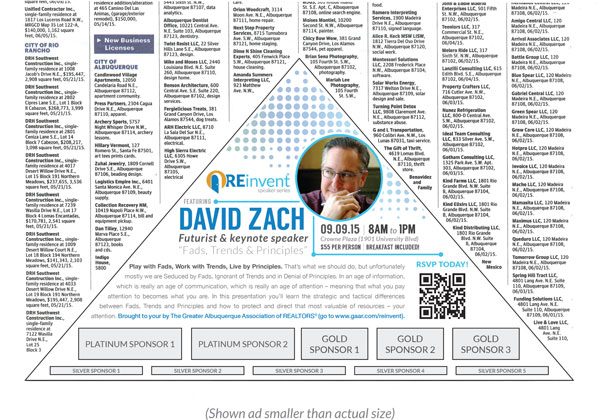 The event will be held on September 9th from 8:30 am until 11:00 am at the Crowne Plaza. Plated breakfast is included.
Our guest speaker is David Zach, one of the few professionally trained futurists on the planet. As a futurist, Dave's worked with over 1400 associations and colleges, offering insights on the personal and professional impact of strategic trends and traditions. In other words, he gives funny, fascinating and thought-provoking talks on the past, present and future of technology, economics, business, education, demographics and society.
All proceeds from the REinvent Speaker Series will be donated to the REALTOR® Fund – GAAR's sustainable endowment set-up to help REALTORS® and friends can give back to the community now and in the future.
Click here to download our Sponsor Opportunity flyer to learn more. Or you can contact Dana Earl at 505-724-3477 or Eva Medcroft at 505-724-3461.