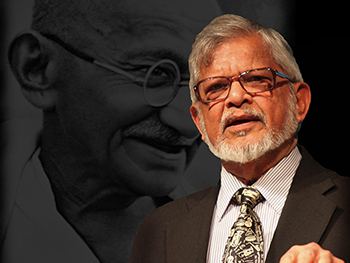 (1 min read)
Not only will you learn powerful lessons on integrity, social harmony, nonviolence, inclusion and peace – you will help raise funds for the community.
The Greater Albuquerque Association of REALTORS® is bringing Arun Gandhi to Albuquerque to share his riveting and unique reflections on the personal and historical legacy of his grandfather, Mohandas "Mahatma" Gandhi to help better our larger community.
All proceeds from the REinvent Speaker Series goes the REALTOR® Fund of the Greater Albuquerque Association of REALTORS® – the sustainable endowment that provides grants to many charities in our community.
Join us at the newly renovated KiMo Theatre on Wednesday, June 29 for an evening of inspiration.
The discount for members and their guests is $40 and are purchased through the KiMo Theatre.
Note: To receive your member discount, sign up as a "student" and we'll ensure the discount is applied for all members.
Our REinvent Speaker Series Sponsors

Century Bank | Sandia Labs Federal Credit Union