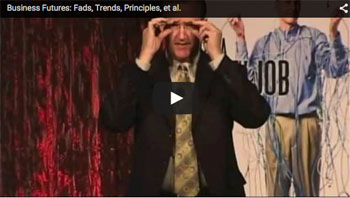 Play with Fads. Work with Trends. Live by Principles.
When looking at the world, you can divide much of it into Fads, Trends or Principles. They can be used as lenses through which to look at what's going on around you, whether it's business, the economy or the real estate marketplace. A little mantra for this is that we should Play with Fads, Work with Trends, and Live by Principles. Unfortunately, this is easier said than done. In modern times, we are too often Seduced by Fads, Ignorant of Trends, and in Denial of Principles.
We are in an age of information, which is really an age of communication, which is really an age of attention - meaning that what you pay attention to becomes what you are.
In this illuminating presentation, professional futurist David Zach will show you the strategic and tactical differences between Fads, Trends and Principles, how to better understand and use knowledge of both current and future trends and traditions, and how to protect and direct that most valuable of resources - your attention.
David Zach, Futurist
David Zach is a professionally trained futurist. He earned his master's degree in Studies of the Future from the University of Houston-Clear Lake. David works with associations, corporations and colleges offering insights on the personal and professional impact of strategic trends relating to the future of technology, economics, business, education, demographics and society.
Join him on September 9th for our first REinvent Speaker Series. Bring a friend, earn CE credits and network with community leaders over breakfast at the Crowne Plaza – and learn how to pay attention.

Click here to get more details and register for this valuable event.